This cake was made with love for my little brother to commemorate his graduation from Cal State Chico.  "The Broey" is quite the cook, so I knew that impressing him would be no easy task.  He loves apple crisp, so despite apples not being in season, I thought this cake recipe was a safe bet.  Whilst creating said cake, I enjoyed a few glasses of wine, baked into the wee hours of the morning and took a few more creative liberties than I originally intended, nevertheless, I was pleased with the result.  I hope you will be too.
Layered Apple Spice Cake with Walnuts
Adapted from Bon Appetit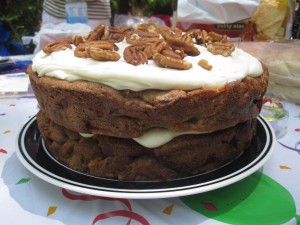 Ingredients:
Cake:
3 C. All Purpose Flour
2 t. Cinnamon
2 t. Baking Powder
1/2 t. Salt
1/2 t. Ground Allspice
1/4 t. Ground Nutmeg
1/4 t. Baking Soda
1 C. Unsalted Butter
1 1/4 C. White Sugar
1 C. Light Brown Sugar
3 Large Eggs
2 t. Vanilla Extract
4 Fuji Apples
1 /2 C. Chopped Walnuts + More For Garnish
Frosting:
8 Oz. Cream Cheese (Room Temperature)
1/2 C. Unsalted Butter (Room Temperature)
1 T. Vanilla Extract
Pinch of Salt
3 C. Powdered Sugar
Cake:
Preheat the oven to 350 degrees.  Butter and flour 2 9-inch round cake pans (2 inches in depth).  Line the bottom of each round cake pan with a circular cut out of parchment paper.  Combine the first 7 ingredients in medium bowl. Using electric mixer, beat 1 cup butter in large bowl until fluffy. Add both sugars and beat until smooth. Add eggs 1 at a time, beating well after each addition; then beat in the vanilla. Add flour mixture to egg mixture beating until blended. Fold in apples and walnuts. Divide batter between cake pans; smooth tops.
Bake cakes until toothpick inserted into center of each comes out clean, about 50 minutes. Transfer cakes to racks and cool in pans 15 minutes. Cut around pan sides to loosen cakes. Invert cakes onto racks; peel off parchment paper. Place another rack atop 1 cake and invert again so that cake is rounded side up. Repeat with second cake. Cool completely. Note: I made my cakes 2 days ahead… I just wrapped them in saran wrap and did the frosting on the day of!
Frosting:
Using an electric mixer, beat cream cheese and butter in large bowl until smooth. Beat in vanilla extract and pinch of salt. Gradually add powdered sugar, beating until frosting is smooth and creamy, about 2 minutes.
Finishing it up…
Transfer 1 cake to your serving platter.  Make sure your cakes are completely cool, otherwise your frosting will melt, and the cakes won't stack well!  Drop half of frosting (about 11/2 cups) by spoonfuls atop cake. Spread frosting evenly to edges of cake. Top with second cake. Drop remaining frosting by spoonfuls onto top of cake, leaving sides of cake plain. Spread frosting to top edges of cake, swirling and creating peaks, if desired. Sprinkle with whole walnuts.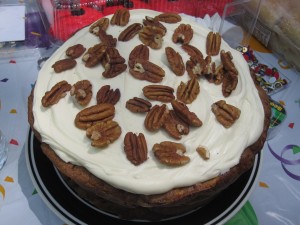 Congratulations, Matt- I'm so proud to call you both my brother and my friend…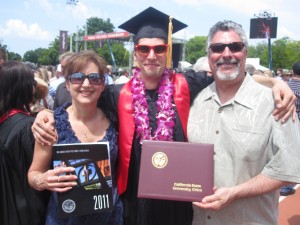 Mangia!