My newest obsession?  Homemade pizza.  I've decided to make pizza my solution for all of the yet-to-be-used fresh produce and groceries sitting in my refrigerator.  The perfect excuse for any item that I want to buy at the grocery store, but can't figure out how to use- I'll just throw it on a pizza!  That works right?
Well apparently it does.  Last night's dinner is a perfect example.
"Everything But The Kitchen Sink" Pizza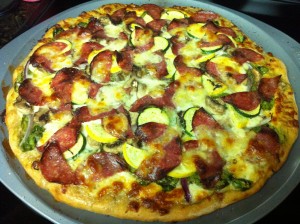 Ingredients:
1 Pound Trader Joe's Wheat Pizza Dough (Makes a 15 inch pizza)
2/3 C. Hummus of your choice (I used Trader Joe's White Bean & Basil)
2 C. Shredded Mozzarella Cheese
2 C. Spinach
1 Yellow Squash, Sliced
1 Zucchini, Sliced
6 Oz. White Mushrooms, Sliced
1/4 C. Red Onion, Sliced
6 Oz. Salami or Pepperoni
4 Oz. Bocconcini
A couple of shakes of Garlic Salt
Instructions: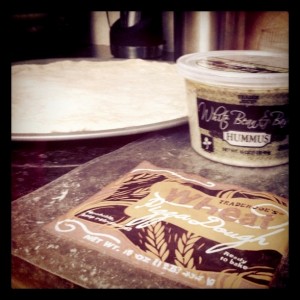 Preheat your oven to 450 degrees.  Prepare pizza dough according to instructions on the bag.  Let rise for 30 minutes on a floured surface, then roll out (I used my hands).  I didn't have in spaghetti or pizza sauce on hand, so in the spirit of using excess groceries, I generously spread my favorite hummus on my pizza dough.
Next, cover your dough and sauce of choice with the shredded mozzarella.  If you find that you pizza crust typically gets soggy, you can throw your pizza in the oven now and toast it up for 5 minutes before adding the rest of the meat and produce to your pizza (a good tip from my bestie, Amanda).
Then, top your cheese with your veggies.  I like spinach first, then the zucchini, squash and mushrooms.  Add your garlic salt on top of the veggies since they need the seasoning (not your salami or pepperoni).
Finally, throw your pepperoni on last and maybe a bit more cheese ;)  I had mozzarella bocconcini in my fridge, so I sliced those up and threw them on top for good measure.
Throw your pizza in the oven for a bit longer than usual because of all of the produce.  Bake for 15 minutes or until your cheese is bubbly and your crust golden brown.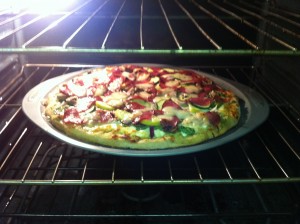 Yummers, I could hardly wait for mine to come out of the oven!
Let cool slightly when you pull it out of the oven, cut, and absolutely serve with a glass of red wine.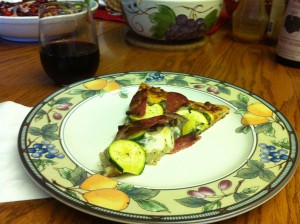 Mangia!