In case you weren't already aware- I'm lazy. I never say no to desert. I love peanut butter, can't get enough chocolate, and baking soothes me. Here's what else… I very rarely listen to baking instructions that read: "Mix dry ingredients in one bowl, and wet ingredients in another." Um, no. They all end up in the same place anyway- why on earth would I make twice as many dishes for myself to clean?
All of the above make these cookies just about perfect for me. They're easy, satisfy my chocolate and peanut butter cravings, require ONE bowl, and keep me in the kitchen just long enough to satiate my urge to bake.
They are especially appropriate, if you're just getting home from work, still need to pack, do laundry, bake a carrot cake, put together an appetizer, and oh yea… you're starting all of these tasks around 9:30pm. Coincidentally, this was exactly the situation I found myself in the night before I was leaving for a trip to Santa Cruz over Labor Day weekend. I had (not surprisingly) gotten quite ambitious when signing up for baked goods to contribute for the weekend, and while I may have been up until 2am baking, these cookies certainly weren't the culprit. Damn that stupid carrot cake…
Flourless Peanut Butter Chocolate Chip Cookies
Adapted from Peanut Butter Fingers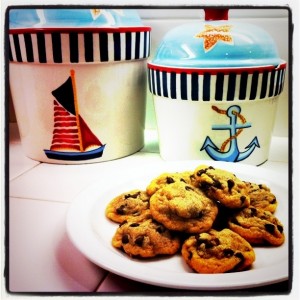 Ingredients:
2 Eggs
2 C. White Sugar
2 C. Creamy Peanut Butter
1 C. Mini Chocolate Chips
That's it! Pretty awesome right?
Instructions:
Combine all of the ingredients in a bowl.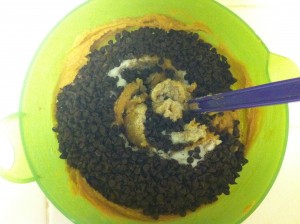 I like a rounder cookie, so I put my dough in the refrigerator to harden for about an hour and in-between batches going into the oven as well.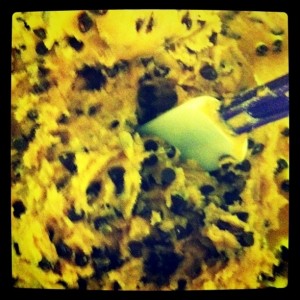 Holy deliciousness. The raw dough was so good it was totally worth the risk of salmonella. Pretty sure I must have devoured at least a quarter of the dough before it ever had a chance to make it into the oven.
Once the dough is hardened, I rolled mine into 1-inch balls and placed on a cookie sheet.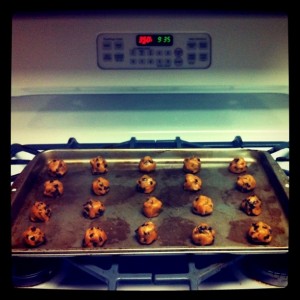 Obviously, because I rolled the cookies into cute little bite-sized balls, its completely justified to eat twice as many… hmmm…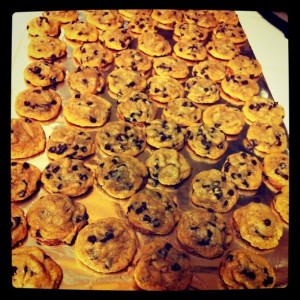 Bake for 9-10 minutes at 350 degrees. Cool on foil.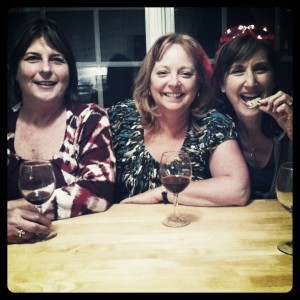 Final Step: Feed to loved ones. I'm pretty sure its a good sign when Mom literally can't wait for me to snap the picture before stuffing her face. Cute, Mom, real cute.
Mangia!