Blueberries are full of antioxidants, high in vitamin C and fiber, and contain virtually no fat! Sooo, if I puree them, add cream cheese and a mountain of powdered sugar and then pipe my concoction onto sugary and delicious cupcakes, do you think they still constitute as a health food?  Hmmmm, maybe not, but maybe the fact that I made them into individual-sized cupcakes instead of a giant sheet cake helps my cause?  Yea, you're right, that doesn't really help either- but hey, it's the thought that counts, right?
Coconut Lime Cupcakes with Blueberry Cream Cheese Frosting
Adapted from Une Gamine dans la Cuisine
Ingredients:
Cupcakes:
1 1/2 C. All Purpose Flour
1/2 t. Baking Powder
1/2 t. Baking Soda
1/2 t. Salt
1 C. Butter
2 Oz. Cream Cheese
1 C. White Sugar
2 Eggs
1 t. Almond Extract
2 T. Lime Zest
2 T. Lime Juice
1/2 C. Buttermilk
1 C. Sweetened Shredded Coconut
Frosting:
1/2 C. Fresh Blueberries
1/2 C. Butter
6 Oz. Cream Cheese, at Room Temperature
1/2 t. Salt
1 t. Almond Extract
5 C. Powdered Sugar
Instructions:
Cupcakes:
Begin by pre-heating your oven to 325 degrees and lining your cupcake pan with cupcake liners.  Beat the butter, cream cheese and sugar together with a hand mixer or standing mixer.  Once your mixture is light and fluffy, add your eggs, one at a time, and continue with the mixer for 2 more minutes.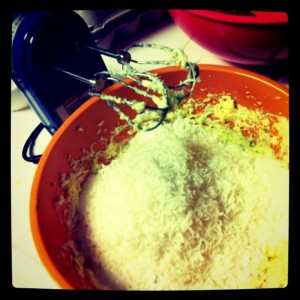 Add your dry ingredients (the flour, baking soda and powder, salt and coconut), and start to mix by hand. Once you've started to incorporate the dry ingredients, add the lime zest and juice, buttermilk and almond extract.  Don't over-mix it.
Scoop your cupcake batter into the cupcake liners (it should be really thick).  Bake for 20-25 minutes.
Frosting:
Clean and dry your blueberries and throw them into either a blender or food processor to puree.  Set aside.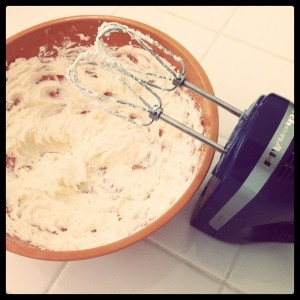 Beat the cream cheese, butter and salt together until light and fluffy.  Start adding the powdered sugar about 1 cup at a time, until you've incorporated roughly 3 cups.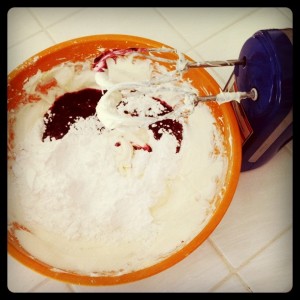 Before starting to add the last 2 cups of powdered sugar, add 1/3 c. pureed blueberry and the almond extract.  Continue adding powdered sugar until the frosting is real thick.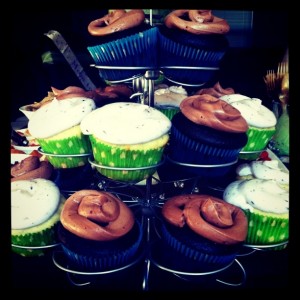 Once the cupcakes have cooled, pipe the frosting on top.  I started using the fancy kitchen tool for this task, but the frosting was just too thick, I ended up cutting the corner of a ziplock and piping it that way instead.  Just as delicious, almost as aesthetically pleasing, and a cheaper option than buying all of those silly frosting bags.
Put them on a pretty cupcake tier and take a picture before you gobble them up!
Mangia!