Let's get one thing straight- I am soooo not above store bought cake, muffin or brownie mixes from a box. I mean, Pillsbury has clearly done something right, as there is just no messing with the culinary genius of Funfetti… That being said, sometimes, "from scratch," is a nice option. For example, when I need to satisfy a completely outrageous and totally un-marketable craving for banana, peanut butter, pistachio, raisin brownies; or, when I want to somehow utilize 6 bags of opened, half-eaten, bags of various chocolate chips by adding them to cupcakes. And yes, folks, let's face it, sometimes I just want to sound fancy and hoity-toity and say that I've made something from scratch. So, the next time you have a completely ridiculous craving, are looking to use everything open and about to go bad in your baking cupboard, or just want to impress someone: here's your go-to brownie recipe.
Basic Brownies From Scratch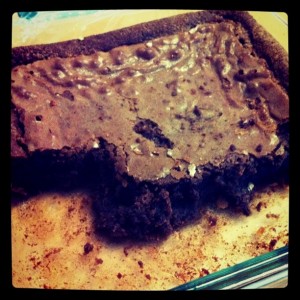 Ingredients:
1 C. Butter
4 Oz. Bittersweet Chocolate
1 C. White Sugar
1 C. Light Brown Sugar
3 Eggs
1 t. Vanilla
1 C. All Purpose Flour
Directions:
Begin by breaking up your bittersweet chocolate in a microwave safe bowl.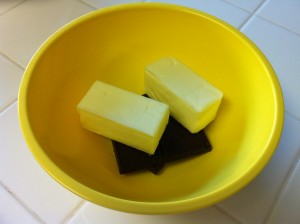 Add your butter and stick it all in the microwave for 30 seconds. Pull it out, give it a stir and then stick it in for another 30 seconds.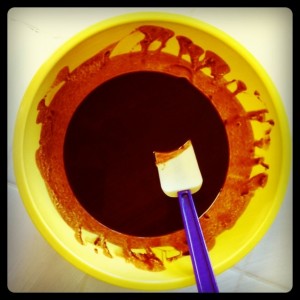 After a minute or a minute and a half in the microwave, you should be able to stir into a smooth chocolate.
I know what you're thinking… do not stick your fingers in this bowl and have a taste… yet ;)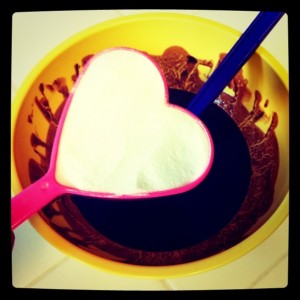 Add your sugars!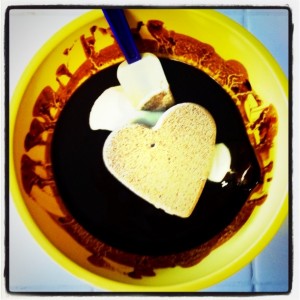 I have heart-shaped measuring cups… which pretty much make baking like playing with sugary sand castles… yum!
If you're more mature than me maybe you can resist playing with your food…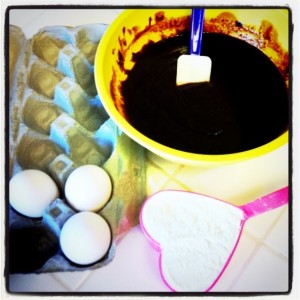 Add the eggs, vanilla and flour. Mix until combined.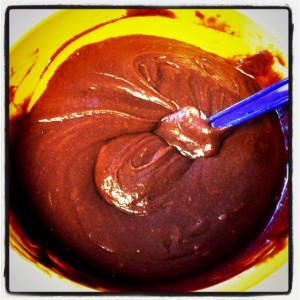 You can stop here, or feel free to add walnuts, chocolate chunks, white chocolate chips… whatever your heart desires!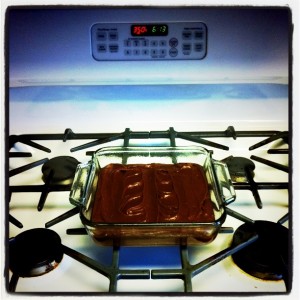 Pour into an 8×8 greased baking dish. Bake at 350 degrees for 30 minutes, then turn the oven down to 325 and bake for 30 minutes more. This will give you a real moist brownie, but if you like yours a bit more "cakey," bake for 5-10 minutes longer.
Mangia!