Do you ever step on your bathroom scale, see the number that comes up, and then flip the scale off? I don't mean turn the power off of the scale… I mean actually give it the middle finger? I do. These are definitely the culprit of one such incidence.
As if brownies or cookies alone weren't bad enough, I did the unthinkable… I stuffed my cookies with brownies. I wish I could say it was I that came up with the brilliant idea, but I first read about pillow cookies on the Bakerella blog.  These brownie and cookie recipes are my own, but the brilliant and gluttonous idea to put them together into one beautiful desert was not.  Nevertheless, I know you will absolutely love these.  I can't promise you'll like what the bathroom scale says the next morning, but what the hell, you only live once right?
Cookie Pillows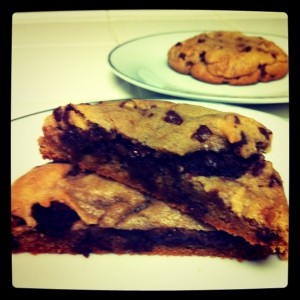 Ingredients:
Brownies:
1 C. Butter
4 Oz. Bittersweet Chocolate
1 C. White Sugar
1 C. Light Brown Sugar (Packed)
3 Eggs
1 t. Vanilla
1 C. All Purpose Flour
Cookies:
2/3 C. Shortening
2/3 C. Butter
1 C. White Sugar
1 C. Light Brown Sugar (Packed)
2 Eggs
2 t. Vanilla
3 C. Flour
1 t. Baking Soda
1 t. Salt
1 Package Mini Chocolate Chips
Instructions:
First make and bake my "Basic Brownies from Scratch" or, if you're feeling lazy, and trust me, I wouldn't blame you… make any brownie recipe you like, from a box or otherwise, even if it is in an 8×8 dish, which is about the amount that my recipe makes, you won't use all of the brownie unless you do a double batch or more of the cookie dough.  If you use another recipe, make sure you don't overcook the brownies, they should be a bit mushy (my recipe always turns out that way because that's the way I like mine)!
For the cookies:
First start by creaming together the butter, shortening and sugars.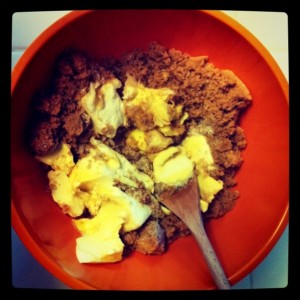 I cheat and throw my butter and shortening in the microwave for 30 second so they get soft and easy to cream together, which is fine, just plan on keeping them in the refrigerator a bit longer before you can bake.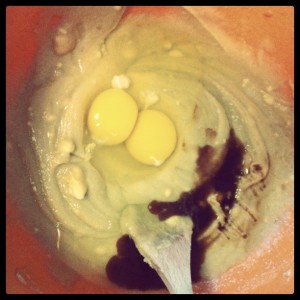 Add the rest of your wet ingredients- the egg and vanilla, and stir it up some more.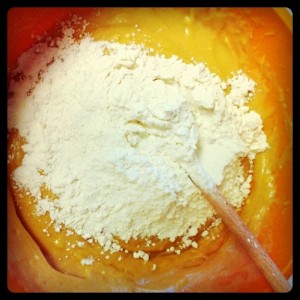 You know I don't support multiple bowl and making extra dishes for myself, so clearly the flour, baking soda, and salt all gets thrown in the same bowl and stirred.  I do add 1 cup of flour at a time ;)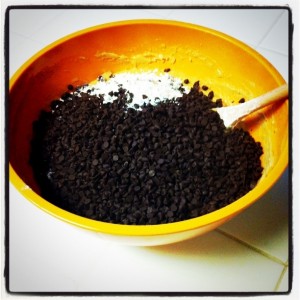 Add the mini chocolate chips… yum… While I'm usually a fan of buying whatever chocolate chips are on sale, make sure you use the mini chocolate chips- this makes the cookie pillows much easier to assemble later.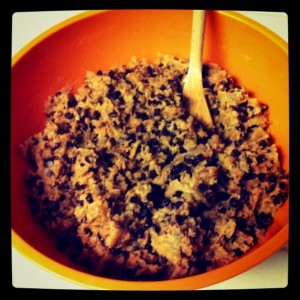 The hardest part?  Trying not to eat the entire bowl of cookie dough raw before you can make the cookie pillows.  Always a challenge for me personally…
OK, assembly!  Make sure that your cookie dough sits in the refrigerator (or if you're impatient like me) the freezer for at least an hour.  You need firm dough for the cookie pillows.  Also make sure that your brownies have cooled completely.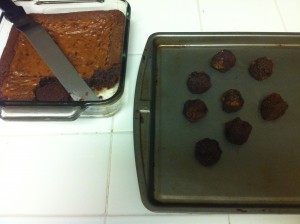 Start by rolling pieces of brownie into small balls- no bigger than 1 inch balls.  You'll only be able to fit 6 on a standard cookie sheet at once.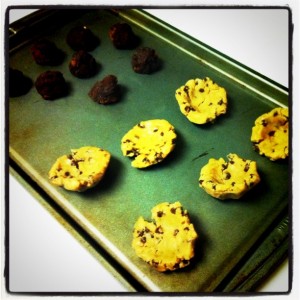 Next create little nests out of your cookie dough.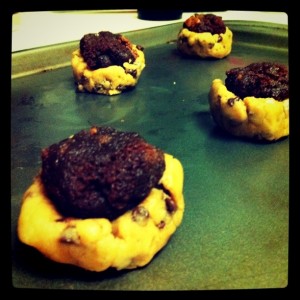 Press your brownie balls into the cookie nests.  Getting excited yet?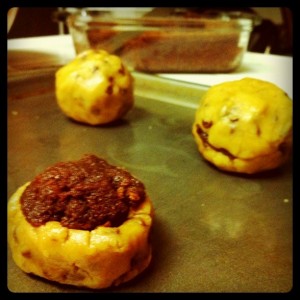 Create six more cookie dough nests and cover up the brownie ball completely.  Roll in your hands so that you can no longer see the brownie peeking through.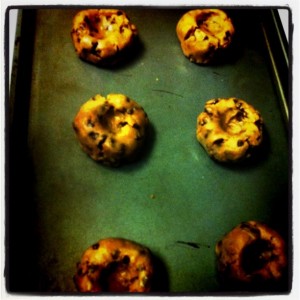 After much trial and error and many demented-looking cookies that I was forced to eat because they lacked what I was hoping for aesthetically… I found that if I pressed my thumbs into the center of the cookies, I didn't end up with brownie mountains with cookie moats along the outside.  You like that analogy?  It just came to me.
Stop laughing.  It works.  When you stop laughing put the cookies in the oven for 15-18 minutes at 350 degrees.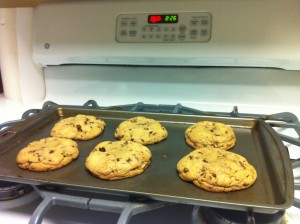 The point is they come out perfectly like seen here ;)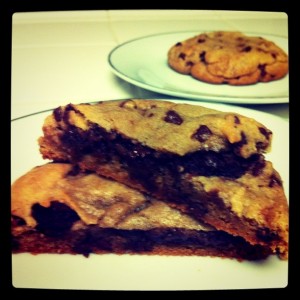 So. Stinking. Amazing.
Mangia!