So after taking a look at what I've posted on this blog thus far, it occurred to me, that if you didn't actually know me, you might assume I am a giant 6 ton gorilla.  In fact, I do TRY and eat relatively healthy most of the time.  "Try" being the key word there.  I'd really prefer to eat nothing but crap all day, every day BUT I do find myself on a quest to achieve "skinny." One way I've tried to get to that elusive state has been with the brilliant David Zinczenko's Abs Diet for Women.  I literally carry the book around with me in my purse at all times, as if just carrying it with me will substitute for the workout I'd really like to skip that day.  It doesn't.
One of the things that Zinczenko suggests is smoothies at least once a day.  He includes recipes in his book, but this one is my own.  If you're lucky enough to be one of my two beautiful roomies, you often have one of these waiting for you before work in the morning, thus the recipe conveniently makes 3, 8oz smoothies.  Each contains roughly 140 calories and 1 gram of fat.
Banana Berry Abs Diet Smoothie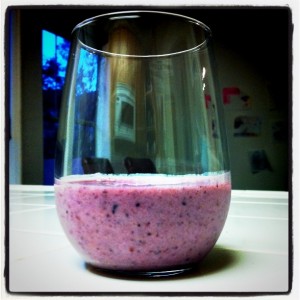 Ingredients:
1 C. Frozen, Mixed, Unsweetened Berries
1 Large Banana
1 C. Non-Fat Milk
1/4 C. Fat-Free Vanilla Yogurt
6 Ice Cubes
2 t. Vanilla Whey Protein Poweder
2 t. Trader Joe's Blueberry Flax Seed
1/4 C. Very Runny, Instant Cooked Oatmeal (Cold)
Instructions: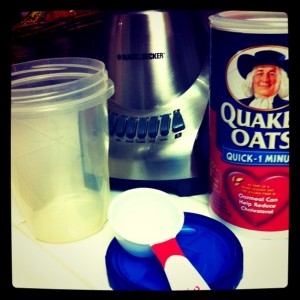 Don't hate me, but you have to begin the recipe the night before.  Pre-make your instant oatmeal and refrigerate the night prior, so it's cold before you add it to your smoothie.  Trust me, its worth it.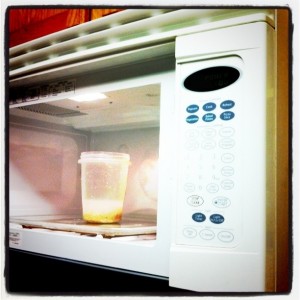 Make the oatmeal really running- I nuke 1/4 C. Instant Oatmeal with 1 C. Water.
My roommates will be pleased to know I felt compelled to clean the microwave prior to taking this photo ;)
Fast forward to the following morning.  I like these smoothies because the oatmeal makes them filling, but you can easily throw one back before going on a run without feeling like there is a brick in your stomach.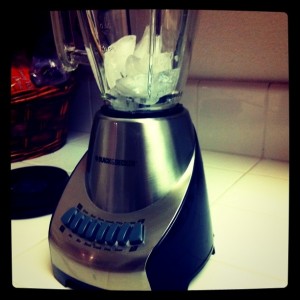 Add the ice cubes- I only use 6 because I don't like icy chunks in my smoothies.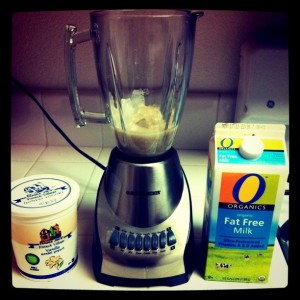 Add the oatmeal, milk and yogurt.  The yogurt seen here from Trader Joe's is my fave… it's like ice cream!  Well, maybe it's not exactly like ice cream, but its fat-free for crying out loud.
Yummmm, bananas are next :)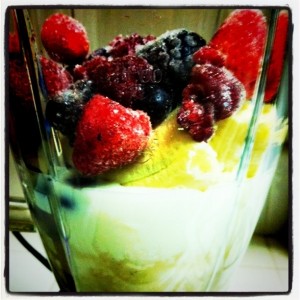 Next come the berries…
You could use fresh berries, but then you'd have to compensate by adding more ice.  Frozen is easier, and tastes just as good, seriously… take my word for it.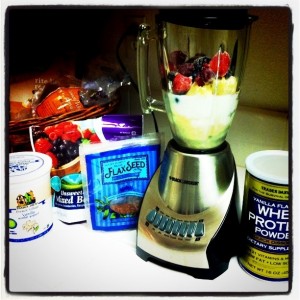 Then add your protein powder and the flax seeds… seen here… and blend that baby up!
Go forth and get skinny ;)
Mangia!