The quest for skinny continues… and I must tell you that one of the ways that I stay away from the sweet stuff which contradicts the morals of the "quest," is to purge myself on salty.  Swapping out one bad thing for another is totally ok, right?
Well, while probably pretty loaded with sodium, this meal was pretty dang healthy and oh.so.freaking.delicious.  I keep salmon on hand at all times, fish is a great healthy meal, and salmon is loaded with omega-3 fatty acids and vitamin D.  But salmon by itself would just be way too boring, so with health in mind I decided to stuff my salmon with something very "Mediterranean" diet inspired: homemade tapenade.  Kalamata olives, olive oil, sun-dried tomatoes… oh just you wait and see how deliciously it all came together…
Tapenade-Stuffed Salmon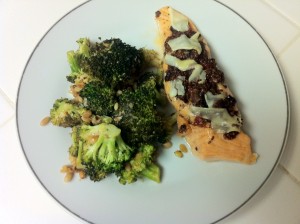 Ingredients:
7 Cloves Garlic, Minced
6.5 Oz. Jar Kalamata Olives (6.5 Oz is the drained weight, if you buy them in juice)
1/8 C. Toasted Pine Nuts
4 Oz. Sun-Dried Tomatoes in Olive Oil
1/4 C. Grated Parmesan
1/8 C. Olive Oil
Directions:
I'll start this off by saying that your tapenade will totally last a while in your fridge or freezer, so feel free to make this in advance, or over the weekend so that you can put together an easy dinner one night after work.  The above amounts are actually 1/2 of what you see me creating below, but I was cooking for 6 and wanted to make sure that I had plenty.  I'm a chronic over-feeder, so sue me.  I was happily rewarded with leftover tapenade that I can save and throw on sandwiches, stuff chicken with, or serve with crackers as an appetizer.  It would also be great addition to any store bought or homemade hummus.  So there.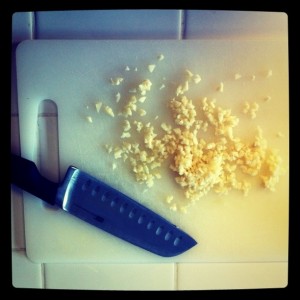 Begin by mincing your garlic.  This step is decidedly less crucial if you actually own a food processor.  I do not. BOO, so I was forced to use a blender, making the chopping seen here- very important.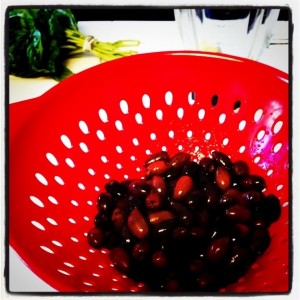 Throw the kalamata olives in a colander and rinse them.  Give them a rough chop as well.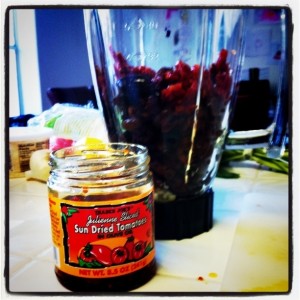 Next come the sun-dried tomatoes.  Give them a chop too and start loading your ingredients into (hopefully) a food processor.  If you're GHETTO like I am, a blender promises an arm workout to go with your meal, but works, nevertheless.  Sigh…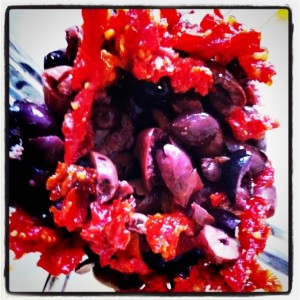 See how pretty it looks all together?  My stomach is growling just thinking about it.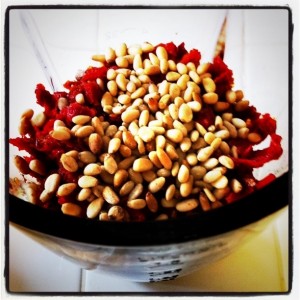 Then the pine nuts- no need to chop these before you throw them in.  Easy peasy.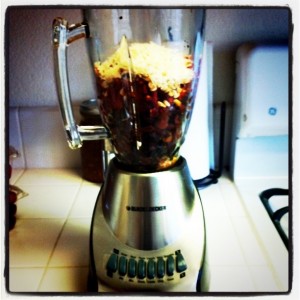 In goes the parm and the olive oil- now you're ready to blend that baby up.  It should remain chunky when you're done.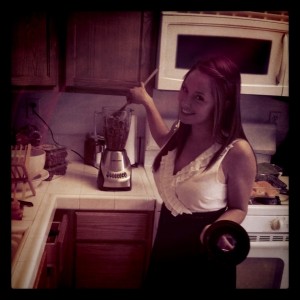 If you're laaame like me, you're going to need to risk your life and that of your blender by stirring every other blender pulse… ugh… do NOT blend whilst the spoon is still inside.
I look happy, but I'm not.  Mom, Dad?  Christmas list?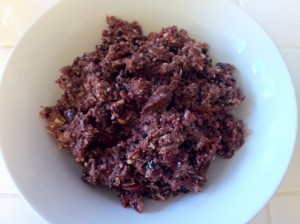 Trust me when I say the flavors in the tapenade are bold and savory- totally delicious, but because the flavors are potent, the amount of tapenade that I made (seen here)… kind of absurd ;)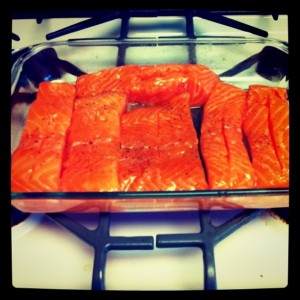 Now prep your salmon.  Place it in a baking dish.  Use a light cooking spray to coat your salmon, then add some fresh ground pepper.  You won't need salt- the tapenade is salty enough.  Not even I added salt to the salmon… and that's saying something.
Cut long slits in the salmon for the tapenade.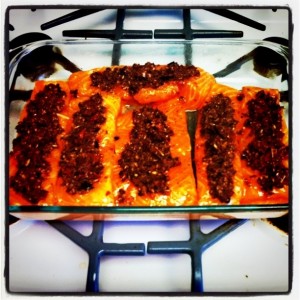 Now it's time to STUFF!  I also added some of those beautiful large parmesan gratings to the top of the salmon before I put it in the oven.  Bake at 325 for 16-18 minutes.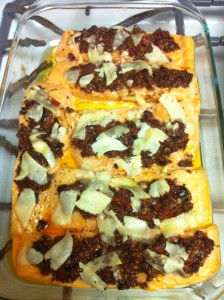 Here's what it looks like when it comes out of the oven.  It was so good AND healthy- that almost never happens ;)  I'm definitely making again.  Hopefully you enjoy it as much as I did
Mangia!