Since I know all of you AMAZING readers immediately went from reading my Tapenade-Stuffed Salmon recipe, straight to your kitchen and tested it out for yourselves, you (like me) probably have tons of leftover, delicious tapenade and were just itching to use the remainder of the delicious, savory concoction… right?  Well, maybe that's wishful thinking.
Due to my absurd compulsion to make enough food for an army when cooking for a small group, I had tons of homemade olive tapenade left over after creating my stuffed salmon the other night.  Luckily, tapenade is easily used, and I could have re-purposed the leftovers in pasta, to stuff chicken, on a sandwich OR in an appetizer out of it.  I chose the appetizer route.  I was expecting a group and didn't want to be stuck in the kitchens, so I opted for something easy.  For those of you that are completely inept in the kitchen, or just lazy (trust me, I've been there) you could easily use store bought tapenade, and still create a great presentation, sure to receive oohs and aahs from your guests.  Test it out for yourself and let me know what you think ;)
Layered Vegetarian Tapenade Towers
Ingredients:
If you're going to make your OWN tapenade you'll need the below ingredients and these instructions:
7 Cloves Garlic, Minced
6.5 Oz. Jar Kalamata Olives (6.5 Oz is the drained weight, if you buy them in juice)
1/8 C. Toasted Pine Nuts
4 Oz. Sun-Dried Tomatoes in Olive Oil
1/4 C. Grated Parmesan
1/8 C. Olive Oil
If you're going to buy your own tapenade, you need:
1 Container Store-Bought Tapenade
1 English Cucumer
1 Container Store-Bought Hummus
16 Oz. Low-Fat Mozzarella Cheese Block
Also, feel free to get creative!  I considered adding a tomato slice and basil leaf to my layers which probably would have turned out pretty good too…
Instructions: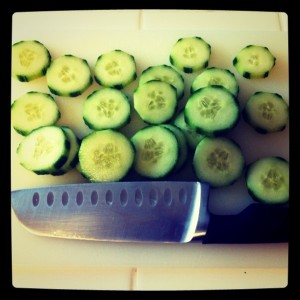 Begin by chopping up your cucumbers.  I like to peel most of the outside off too before chopping.
Then plate them.  If you're like me and live for excuses to buy serveware, you can purchase this one at Target :)  I appreciate aesthetics.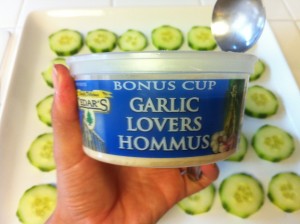 Next step is the hummus.  I planned on making my own, then I ran out of time, oh yea and I'm lazy.  Store bought it is!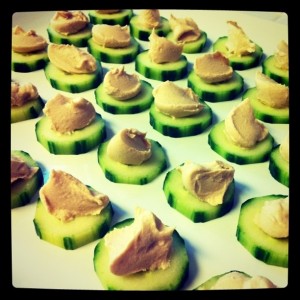 Each cucumber slice is going to need a dollop of hummus!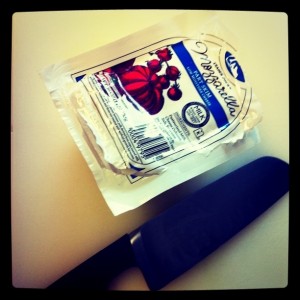 Next comes the mozzarella!  I like this low-fat version from Trader Joe's.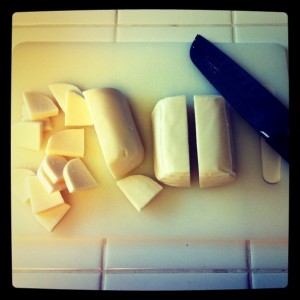 Chop it up in pieces that will fit on top of your cucumber slices.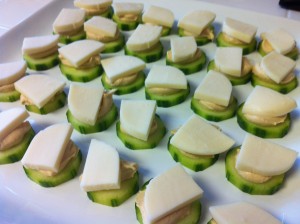 Then the cheese layer…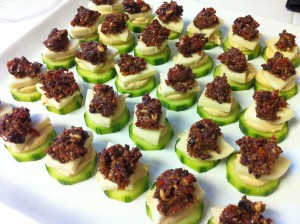 Finally the tapenade on top!
Soooo pretty on my table right?  And I swear it only took me like 20 minutes to put together… meaning more time to EAT!
Mangia!