This is NOT your Mom's Banana Split Cake.  If you Google this recipe every single one (besides mine) will have pineapple in it.  What's up with that?  Since when do YOU put pineapples on your ice cream sundae?  Gross.  Let's get real.  This cake was born from my hungry imagination one day while I was supposed to working and hitting quota in my unexciting 9-5 office job.  It looked a little bit like this: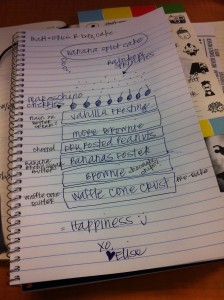 Now, am I really to blame if this took my focus away from my desk and computer?  It was such a great idea, and SOOO much more fun.  And then I had to rush home to BAKE it!
Banana Split Cake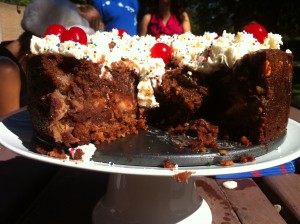 Ingredients:
18 Waffle Cones
2.75 C. Buter
6 Oz. Bittersweet Chocolate
2 C. White Sugar
1.25 C. Light Brown Sugar (Packed)
4 Eggs
2.5 t. Vanilla
1.5 C. All Purpose Flour
2 Bananas
1/2 C. Dry Roasted Peanuts
4 C. Powdered Sugar
4-6 T. Whole Milk
Rainbow Sprinkles
Maraschino Cherries
Instructions: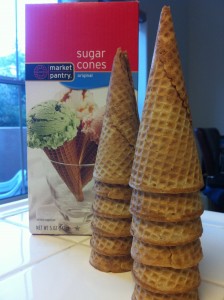 Start by putting your waffle cones in a ziplock bag and crushing them.  Then put them in a bowl with 1/2 C. melted butter.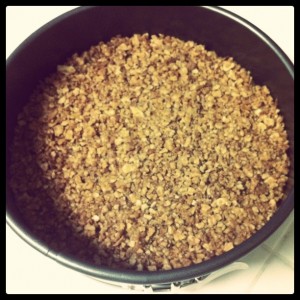 Press the mixture into the bottom of a greased springform pan.  Pre-bake for 15 minutes at 375 degrees.  I swear at this point I was hungry already…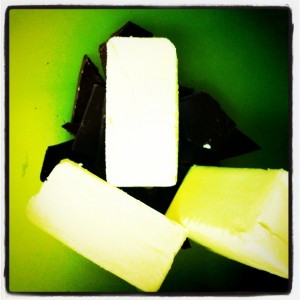 Next, move on to the brownie layer! Melt 1.5 C. butter with the 6 oz of chocolate until all melty together.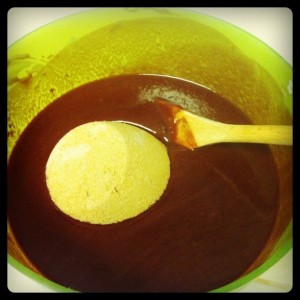 Then add your sugars to the chocolate mix- 2 cups of white sugar, 1 cup of packed brown sugar.  Mix it up!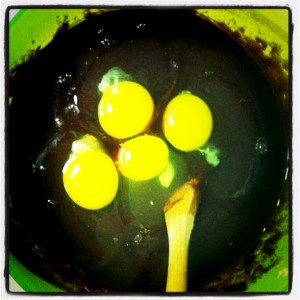 Then add your eggs and 1.5 T Vanilla extract…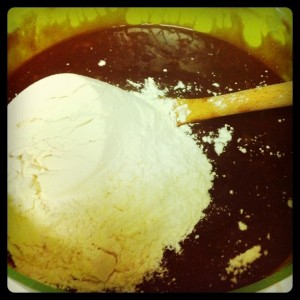 And then the flour!  BAM, your brownie layers are done :)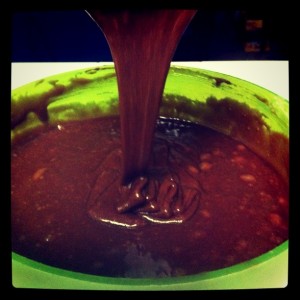 Um hello yummy.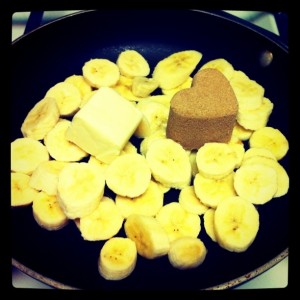 Now for your bananas foster layer. Cut up your 2 bananas into slices and put them into a frying pan with 1/4 cup butter and 1/4 cup brown sugar.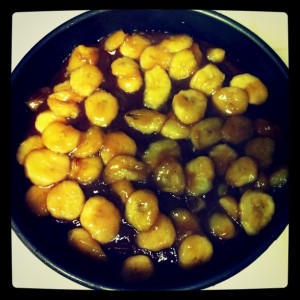 Brown those lovely yummy bananas over medium heat until soft and slightly brown, just about 5 minutes.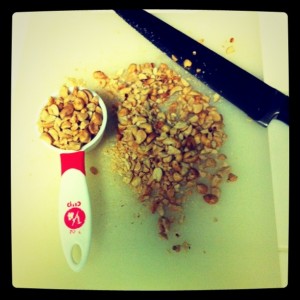 Chop up your dry roasted peanuts.
Now it's time for those pretty layers. Add 1/2 of the brownie mixture on top of your waffle cone crust.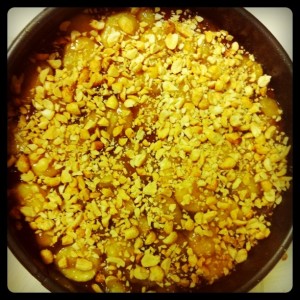 Then the bananas and the nuts go on top of that brownie layer…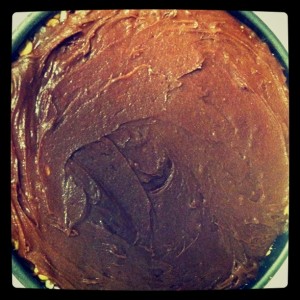 Then the other 1/2 of your brownie batter.  Now THAT is a banana split cake ;)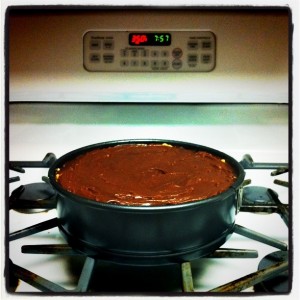 Put that baby in the oven at 350 degrees for an hour.
Next make your frosting.  Use the rest of your butter (4 T.), soften to room temperature and add the milk and remaining vanilla (1 T.).  Beat on medium until creamed together, then add 1/2 C. of the powdered sugar at a time until you reach the desired consistency.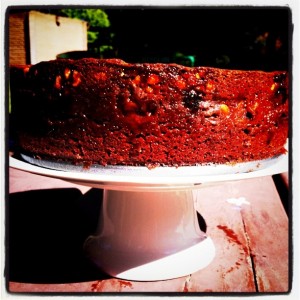 Once your cake has cooled, release the springform pan and reveal your beautiful cake!
Frost the top of your cake.  Patience… you are ALMOST there…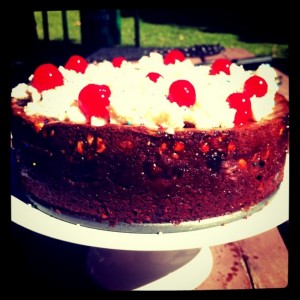 Finally, sprinkle with your rainbow sprinkles and then the maraschino cherries.
Now THAT is a banana split cake!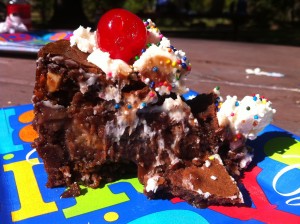 Can you stand it for one more second?  You shouldn't… YUM!
Mangia!