Considering I'm a complete Christmas fanatic, it's really pretty absurd that I've yet to post anything with gingerbread, red and green green sprinkles, or in the shape of a Christmas tree.  I plan to remedy that right now.  These cake batter truffles are super easy- they're impossible to mess up, and pretty dang delicious too.  They taste like cookie dough, don't require any baking, and they're small enough that you can eat like 20 without looking like a total fatty… okay, maybe not, but I promise I won't judge ;)
Merry Christmas!
Cake Batter Truffles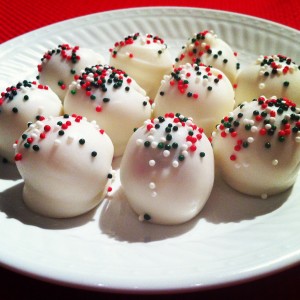 Ingredients:
3/4 C. Butter (1 Stick at Room Temperature, 1/4 C. Melted)
1/2 C. White Sugar
1 C. Boxed Yellow Cake Mix
1 1/2 C. Flour
1 t. Vanilla
Pinch of Salt
3 T. French Vanilla Coffee Creamer
2 T. Sprinkles
Instructions: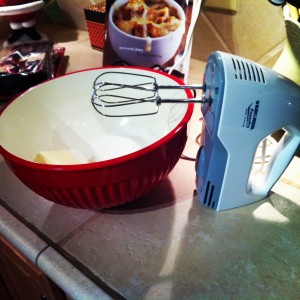 Start by using the hand mixer to cream together 1 cube of room temperature butter and the 1/2 c. sugar.
When the new, fancy hand mixer SUCKS, break out the old school mixer and get your dough to the crumbly consistency seen here.
I try and avoid hand mixers because I feel like they mean extra, unnecessary dishes, BUT if you must use them, at least reward yourself by licking the beaters ;)  Tip: Unplug it first.  Good work.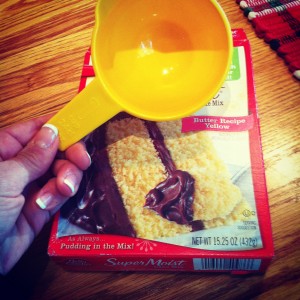 Then add your yellow cake mix.  PS: No idea if the "Butter Recipe" Yellow Cake mix is better than the standard yellow- but it couldn't be worse right?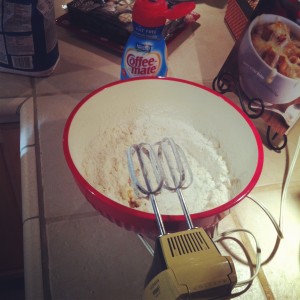 Add the flour, vanilla, salt and creamer and continue to beat with the hand mixer.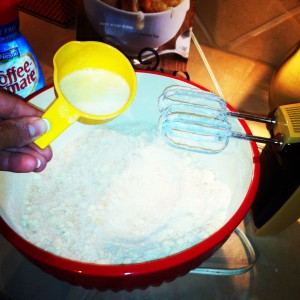 The batter is probably pretty dry, so melt the final 1/4 c. of butter and throw that in the mix as well.  Beat until combined.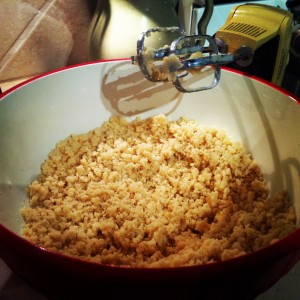 It should look about like this… try and resist eating it straight out of the bowl. I was mildly successful at following my own advice.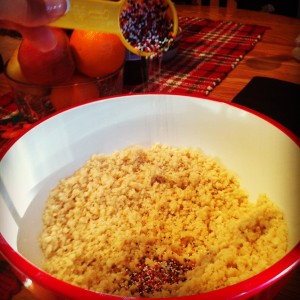 Sprinkles!  BTW this is my modest attempt at "action photography."
Mix with a rubber spatula instead of the beater… unless, of course, you want sprinkles all over your kitchen.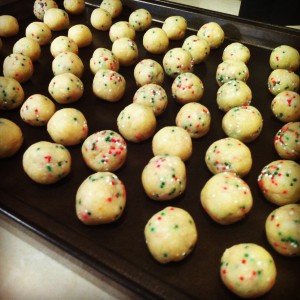 Use your hands to roll the dough into little bite-sized balls of heaven :)
Put them on a platter or cookie sheet that can throw in the refrigerator when you're done.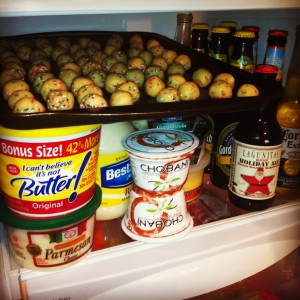 The answer is, yes, there is ALWAYS space for both the beer and desert.
Refrigerate for at least an hour.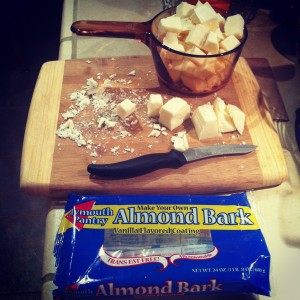 After your dough has hung out in the fridge for a bit, start chopping up your almond bark.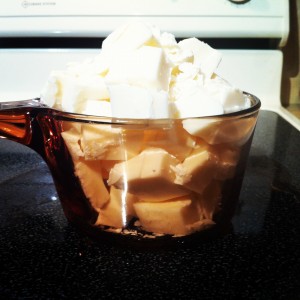 Throw that pot on the stove and let it melt slowly on low heat.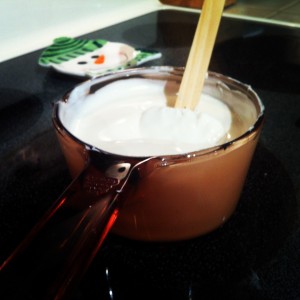 When your almond bark is liquid-y, you're ready to start dipping.
Use a fork to dip each dough ball in, one at a time, then set them back on the cookie sheet or parchment paper.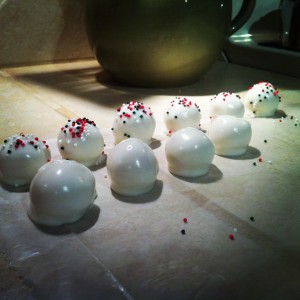 Before the almond bark dries completely, sprinkle more christmas colored sprinkles on top.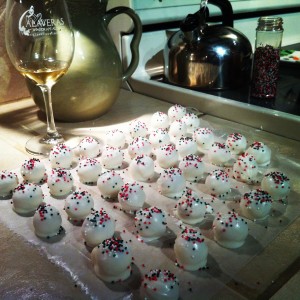 Aren't they pretty?  Also, word for the wise, they're much more fun to make and eat if you're enjoying wine at the same time…
Mangia!