Bacon makes everything better right?  If you don't agree with that statement you probably shouldn't bother reading much further… You really can't go wrong with these bite-sized appetizers unless you're trying to feed a vegetarian.  They're pretty simple to put together and don't require a lot of prep either.  The bacon makes them savory, the cayenne just a bit spicy, and the brown sugar gives them a sweet crunchy glaze on the outside.  If your mouth isn't watering by now, something is wrong with you…
Sweet Chili Bacon Wrapped Chicken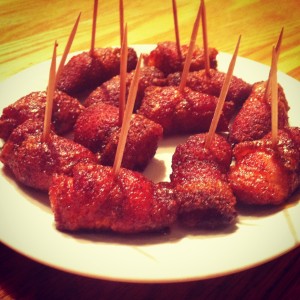 Ingredients:
1 Lb. Boneless, Skinless Chicken Breasts
1 Lb. Bacon
2/3 C. Brown Sugar
3 T. Chili Powder
1 t. Garlic Powder
1/2 t. Red Cayenne Pepper
Instructions: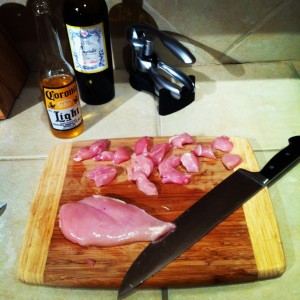 Begin by dicing your chicken into 1 inch cubes…
Use the biggest knife in your arsenal. Why?  Style points, obviously.  Duh.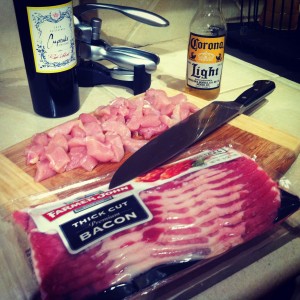 Mmmmm, get out the bacon…
Cut your bacon strips into thirds.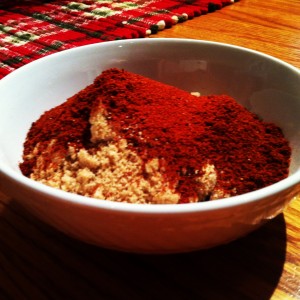 Mix up your seasonings in a bowl with a fork.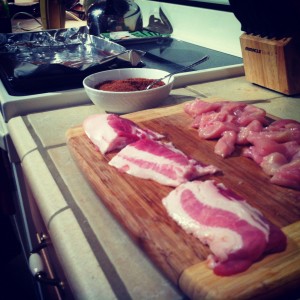 Here's what your lovely assembly line of yum should look like…  Are you ready?  This is when the magic happens…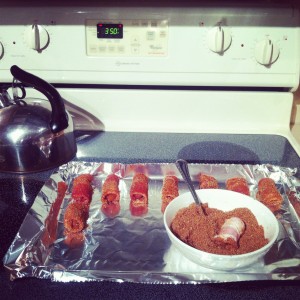 Wrap your chicken in bacon, dredge it in your rub, and put the wrapped goodies on a foil lined baking sheet.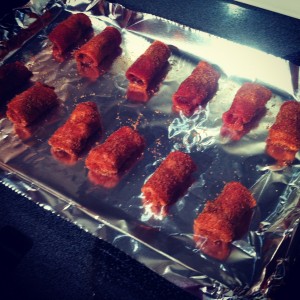 Mmmmm, throw those babies in the oven at 350 degrees for 35 minutes or until your bacon is crispy.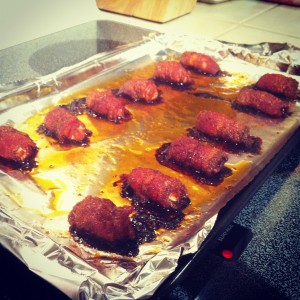 It WILL be tough, but trust me, let them cool before you stuff your face.
Mangia!