It's Monday.  Monday following a weekend of epic proportions when the SF 49ers won their first play off game and will go to the NFC championship.  Monday following a weekend of too much beer-drinking, pizza, and Funfetti pancakes for breakfast (yea, that happened).  Monday when you stepped on your scale and then proceeded to give it the middle finger.  Monday when you promise yourself you will eat nothing but celery sticks from now until the end of time.  Uh huh, one of THOSE Mondays.  And so I bring you something both delicious and totally healthy.  It's a loaded taco salad that you can actually pass off as "normal food" when, in fact, its super healthy.  You can even feed it to boys without their grimacing and making faces at a salad for dinner.  I know, because I fed it to boys and they actually enjoyed it.  I know you will too ;)  Plus, because I keep it super classy and fancy for you folks, I even made my own taco seasoning.  If your spice cabinet looks as incriminating as mine (please forgive me for the photo below), you can too- thus impressing all of your friends and scoring all kinds of cool points.  Boom, you're now skinny AND impressive.  #winning
Skinny Taco Salad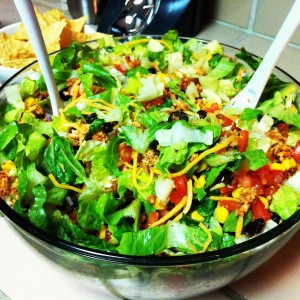 Taco Seasoning Ingredients:
1/4 C. Chili Powder
1.5 t. Onion Powder
2 t. Garlic Powder
1.5 t. Cumin
1.5 t. Oregano
1 t. Paprika
1 t. Salt
1 t. Pepper
1/2 t. Cayenne
Taco Salad Ingredients:
3 Hearts Romaine Lettuce
1.25 Pounds 99% Lean Ground Turkey
1 Packet Taco Seasoning or 1/4 C. Homemade Taco Seasoning (Recipe Above)
4-5 Roma Tomatoes
1 Can Corn
1 Can Black Beans
1/2 Red Onion, Sliced Thinly
1.5 C. Fat-Free Shredded Cheese
1 Small Can Sliced Olives
Dressing Ingredients:
1/2 C. Vegetable Oil
2 T. White Sugar
2 T. Red Wine Vinegar
2 T. Lemon Juice
1/2 t. Dry Mustard
1/2 t. Paprika
1/2 t. Salt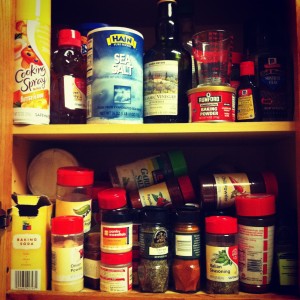 Now, you can of course buy your own taco seasoning at the store for like… a quarter… BUT if you're A) super duper fancy like me, B) want to impress your friends or C) you spice cabinet looks like mine does… you could also make your own! spice cabinet looks like this… you can make your own!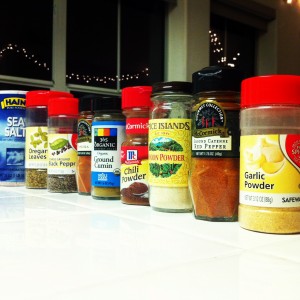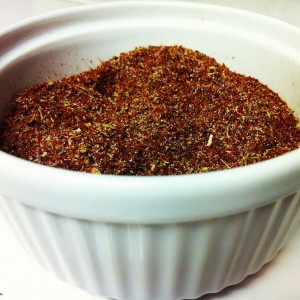 All you need are THESE crucial ingredients…
Throw those babies together in a dish – BOOM you've instantly reached Martha Stewart status, kiddos.
Okay, now that you're a super-impressive DIY maker of taco seasoning, we can get back to getting skinny whilst eating delicious taco salad…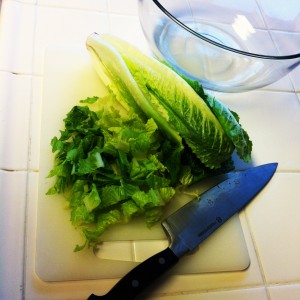 Start by chopping up your lettuce- FYI, this makes a BIG salad, so feel free to half it if you're making it for a smaller group.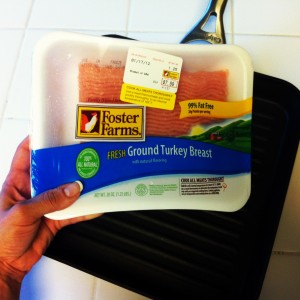 Pull out your ground turkey.  You could also use ground beef.  Beef = More manly salad, however less "skinny."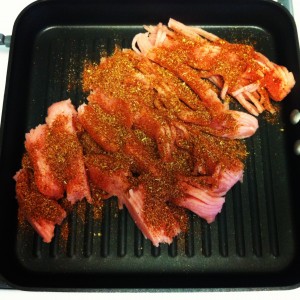 Apply the taco seasoning and grill that baby up until there your turkey is fully cooked (no more pink meat).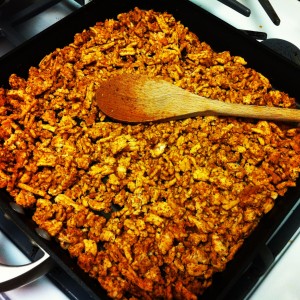 It should look like this when you're done… you're doing great so far ;)
You ALREADY look skinnier.  I swear.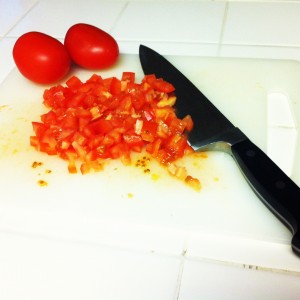 Chop up those tomatoes and blot them with a paper towel so your salad isn't watery!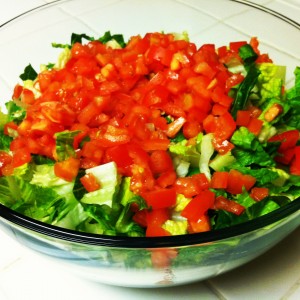 Starting to look colorful and delish, right?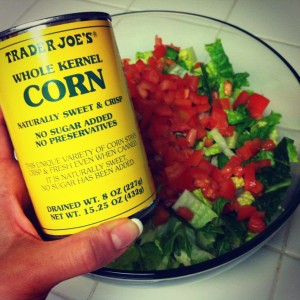 I LOVE corn.  You probably don't need an entire can of corn, but I totally support it if you add that whole thing to your salad… just sayin'…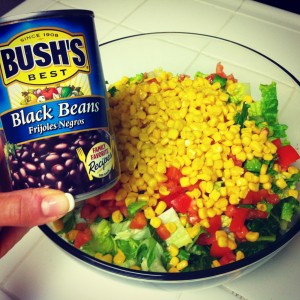 Yummm black beans are full of fiber and protein, so at this point in the salad making process, you're basically a nutritionist.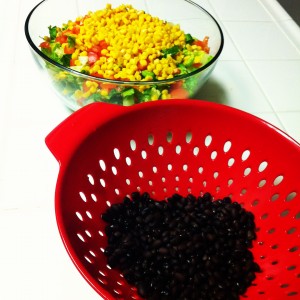 Make sure to drain and give your black beans a rinse before you toss them on your salad.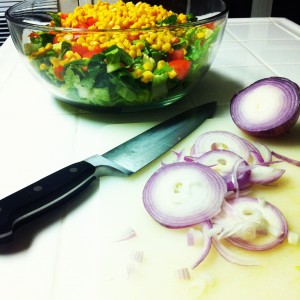 Red onion gets chopped and thrown on there for some kick and little crunch!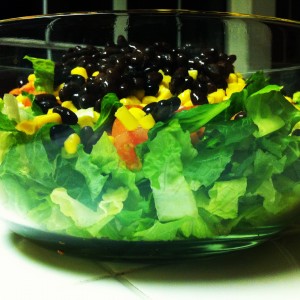 Hooray for glass bowls that allow you to show off your handy-work!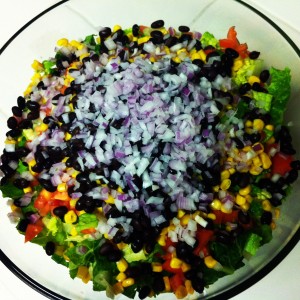 I dare you to say that doesn't look good.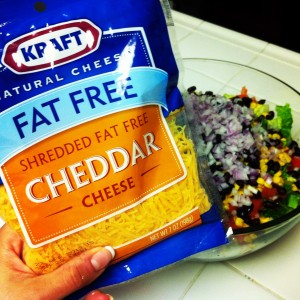 I know, I know… fat free cheese?  But I swear, once it's tossed in there with all the other good stuff, no one will know the difference.  Your scale will thank you tomorrow.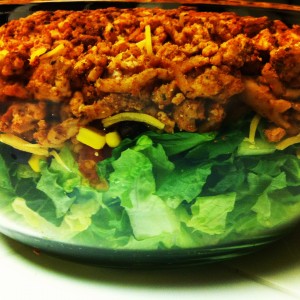 Then the meat goes on top of that- make sure it's cooled most of the way first so that your lettuce doesn't get wilted!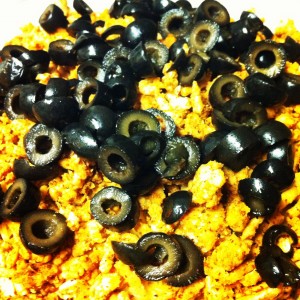 Olives are a lovely addition…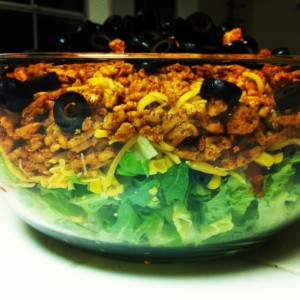 See what an amazing salad you made?  A+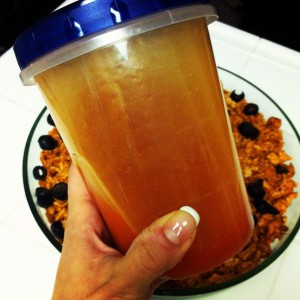 Now toss all of the salad dressing ingredients in some sort of container that will allow you to shake the concoction without making a disaster of your kitchen.  Seriously, stirring it is not good enough.  Gotta shake.  It burns calories, it's good for you… trust me.
Mangia!