It was so good.  Too good.  So good I wanted a shovel to get it into my mouth faster.  Ew.  OK, that was taking it too far… but honestly, I'm a sucker for savory, creamy, cheesy, just-a-little-bit-spicy-with-crunchy-on-top dips.  Yea, in my world, that's totally a thing.  This delicious appetizer is just what you need to satisfy a crowd of loud, beer-drinking, hungry, sports fans.  I served it on Superbowl Sunday, (in my book) a very sacred day- not just any appetizer would do.  Folks, this was not just any appetizer.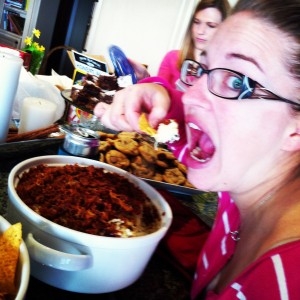 Annie liked it too, see?
Bacon Jalapeno Popper Dip
Ingredients:
2 8 Oz. Cream Cheese Bricks
1 C. Mayonnaise
1 C. Grated Cheddar Cheese
1 1/2 C. Parmigiano Reggiano
8 Oz. Sliced, PIckled Jalapenos
4 Jalapenos
1/2 C. Panko Breadcrumbs
12 Oz. Bacon
8 Oz. Diced Mild Green Chilies
Instructions: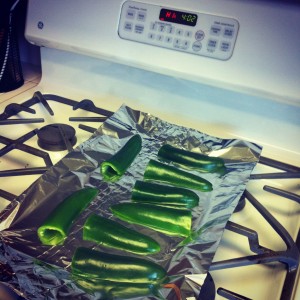 So there's good news and bad news.  Which do you want first?
Let's start with the good- roasted jalapenos are delcious and you get to eat them in this dip!
Bad news- you have to roast them and its a pain in the rear.
Clean, seed, and slice your jalapenos.
People: Do as I say and not as I do.  Do NOT think that you are smarter than the recipe and you can do this without gloves.  I'm no wimp, I can handle jalapeno, I don't need gloves- or so I thought.  And I thought wrong.  Unless you want your fingers to taste spicy for the next 48 hours, and unless you want to cry for hours on end the next time you touch your face: use. the. damn. gloves.
Once you've saved yourself from hours of spicy misery- place your jalapenos on a foil-lined cookie sheet in the oven on broil.
Watch your peppers for 4-5 minutes until the skin is charred.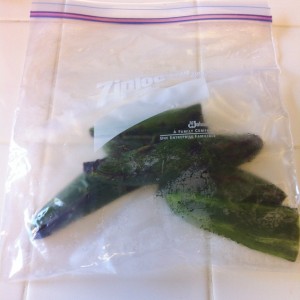 While they are still hot, put them in a sealed ziplock bag for 15 minutes.  You're softening the jalapenos, and loosening the skin so you can remove it more easily later.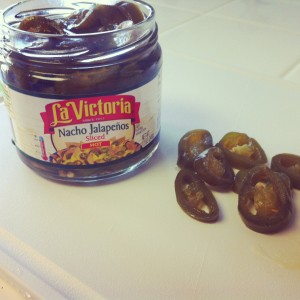 In the meantime, focus on your other jalapenos- the pickled ones…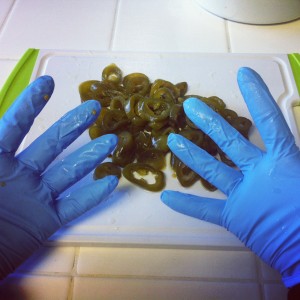 Oh, now would you look at that… someone wised up, and/or got sick of fiery hands, eyes, and face.  Gloves!
Dice your pickled jalapenos.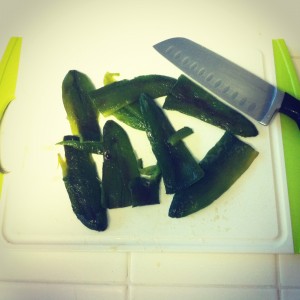 Peel your roasted jalapenos, and dice them too.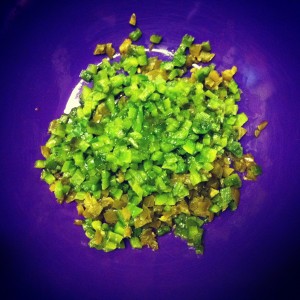 All the spicy, dicey good stuff goes together in your mixing bowl.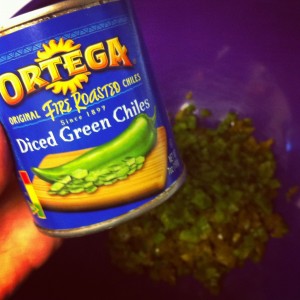 Not quite satisfied yet?  Yea me neither.  In go some fire roasted diced chiles…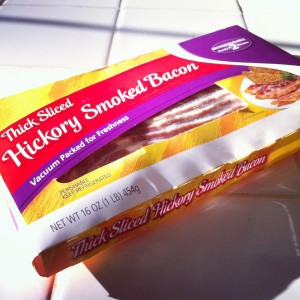 If you know me, or you've been to this blog before- you should know what comes next.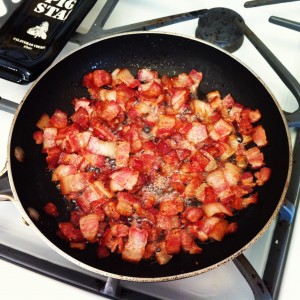 No. words. necessary.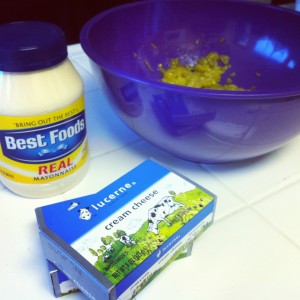 I never said it was healthy…
Add the cream cheese and mayo.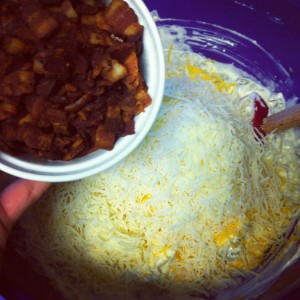 I did promise it would be delicious.  I stand by that…
In goes 1/2 of the bacon, all of the cheddar, and 1 C. of the parmesan reggiano.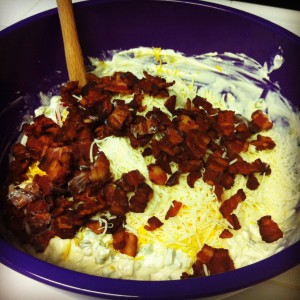 That shovel is starting to make sense now, isn't it?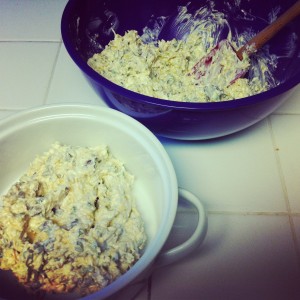 Mix it up and spoon your dip into an oven-safe dish that it can also be served in…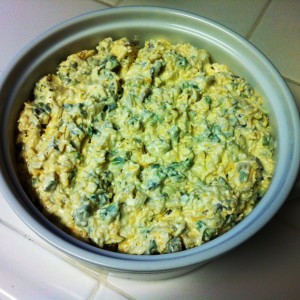 Once it's dished up, sprinkle the remaining parmesan reggiano and bacon on top.
Bake at 375 degrees for 30 minutes.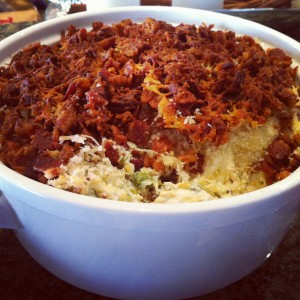 Eat and repeat.
Mangia!