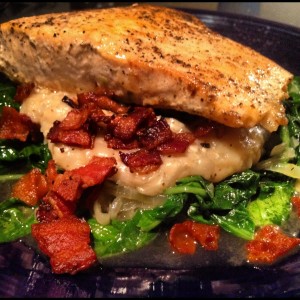 Let me tell you about a little thing called Soubise sauce.  Have you ever heard of it?  Well if you hadn't- you have now, and you're very welcome.
There's really a sauce hierarchy in my life.  In my world tomato-based sauces are the lowest on the totem pole, probably because they're usually the healthiest option… I hate when that happens, but it's really just a fact of life.  Lowest in calories = most boring = most tasteless = rarely shows up on my dinner plate.  Moving on up from there you've got tomato-based meat sauces, like your everyday bolognese.  Meat makes it better- obviously.  Then your standard cream sauces, like a Bechemel; then pesto; and finally creamy-cheesy sauces, which clearly reign king in my world.  Sauces like Alfredo, creamy Gorgonzola… I'm going to go out on a limb and also classify nuclear-colored Kraft macaroni and cheese sauce in this category as well.  Creamy cheesy sauces… also, not coincidentally, the most unhealthy.  Why, oh why on earth do my taste buds want me to be obese?
So there's a new sauce in town and it's punk-ing the creamy cheesy sauce for the position of top dog on my dinner menu.  It's the Soubise sauce.  The Soubise sauce is a Bechemel, or a basic white sauce of butter, flour, and milk – but with the addition of onions.  Mmmmmm onion-y white sauce.  Yep, you can go ahead and cover my life in that.  This dish pairs my favorite seafood (salmon), with a delicious, savory Soubise sauce, atop a bed of wilted spinach, and sauteed onions, garlic and jalapenos. Oh and there's bacon.  I'm sorry, I don't INTENTIONALLY put bacon in everything… sometimes it just happens… oops, your meal has bacon in it… again…  See?  I told you my taste buds want me to be obese!
Pan-Grilled Salmon with a Soubise Sauce over Wilted Spinach and Sauteed Onions, Garlic & Jalapeno…Er, that's a mouthful, let's go with…
Soubise Salmon and Spicy Wilty Greens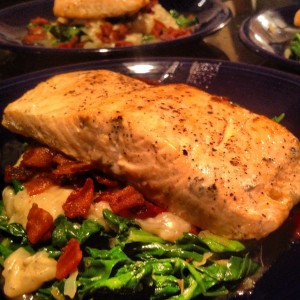 Soubise Salmon Ingredients:
6 Slices Bacon
3 T. Butter
6 Large Shallots
4 Cloves Garlic
2 T. Flour
1 1/4 C. Whole Milk
2 Bay Leaves
2 Sprigs fresh Thyme
4 Salmon Filets
Salt & Pepper to taste
2 T. Olive Oil
Spicy Wilty Green Ingredients:
1 Bag Spinach
1 Yellow Onion
3 Cloves Garlic
1 Large Jalapeno
2 T. Reserved Bacon Fat
Instructions: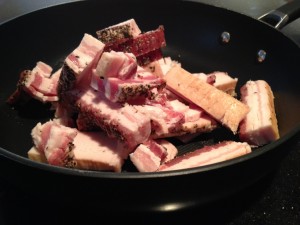 Why wouldn't you start with the most important component?  Bacon.  You know what to do with it.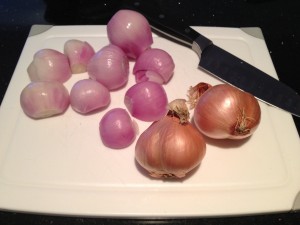 Peel and finely dice the shallots.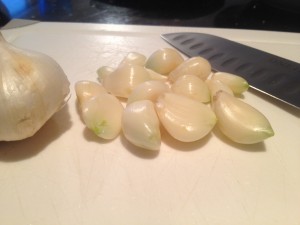 Then the same with your garlic- mince, mince, mince.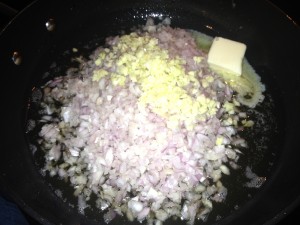 Put your diced onions and minced garlic in a frying pan over medium heat with the butter.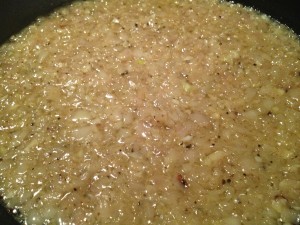 Sautee until your mix is golden brown and the smell of your kitchen is making your mouth water :)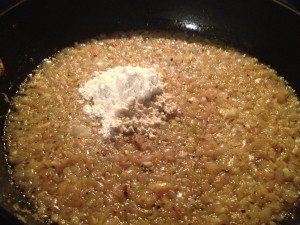 Then add your flour and a generous amount of salt and pepper, to taste. Stir constantly for several minutes while the flour taste cooks off.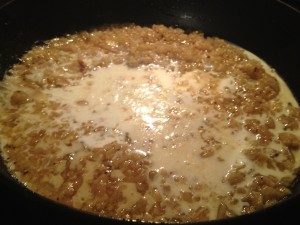 Then add your milk and continue to stir constantly until your sauce gets bubbly.  Then add the thyme and bay leaves, and leave to simmer while you work on your spicy, wilty greens.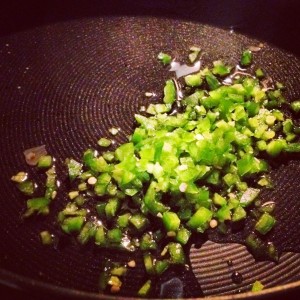 To begin your wilted spinach, first chop and seed your jalapeno.  My boyfriend conveniently "forgot" to seed these jalapenos before he helped me chop them up- our wilty greens were pretty spicy for me, but he loved them ;)
You can make your own judgement call there…
Next saute your jalapeno in some of the reserved bacon fat.  This will calm some of the jalapeno heat as well.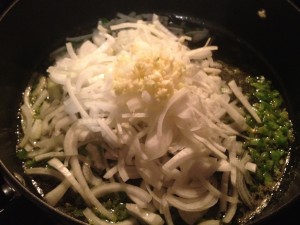 Then add your onion and garlic- continue to saute.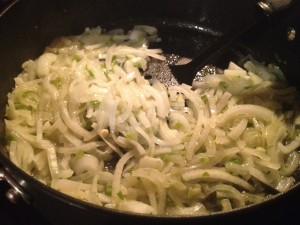 Until the mixture is soft and fragrant.
Now focus on your salmon, because everything else is going to come together pretty quick…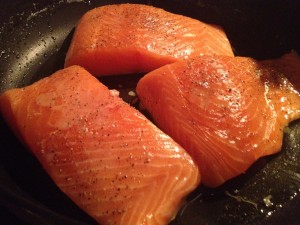 Place the raw salmon on a hot frying pan with some olive oil, sprinkle it generously with salt and pepper.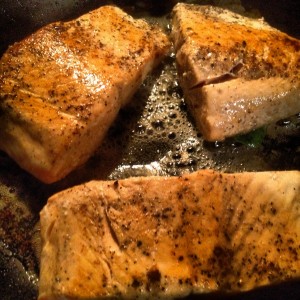 Depending on the size of the fish, grill on each side for 3-6 minutes until you get a golden glaze, and the fish just begins to flake apart at the touch of a fork.
Back to your greens now…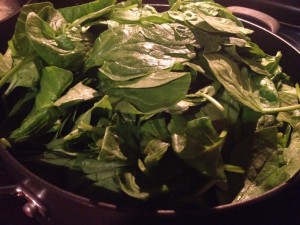 Add your spinach until its just barely wilted.
Plating!  The part when your food becomes glamorous- which is probably silly considering you should eat it immediately after plating… BUT it makes for great pictures that you can send your friends to make them jealous of what you're having for dinner :)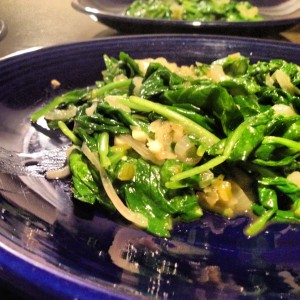 First your greens…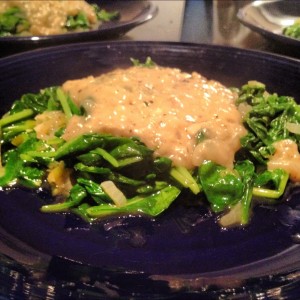 Then your delicious warm Soubise sauce…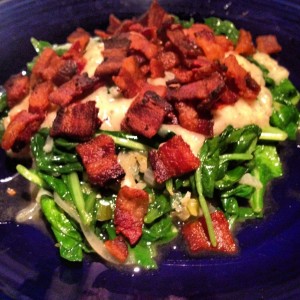 Then the bacon…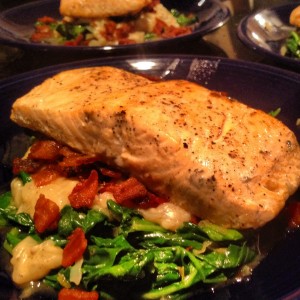 Hello, beautiful dinner.
Mangia!