So I have these feelings about produce.  Realllllly strong feelings.  I'll just put it out there: I'm a produce snob… HUGE produce snob.  I simply refuse to eat even a slightly mushy grape, an apple with a single bruise, a teensy bit overripe peach, or a banana with a hint of brown.  I've always been perplexed by those people that can have their groceries delivered to their home (i.e. my best friend, Amanda… smart girl, but clearly delusional in this one aspect) .  You just let some STRANGER choose your broccoli?  What?!  Amanda- were your going to feed ME that broccoli?!  Are you kidding me?  I get irate if the checker doesn't handle my zucchini like a priceless work of art.  Insanity.
This obsession especially applies to bananas.  I like them firm.  As in, still-have-a-tinge-of-green, kind of firm.  The second they have ripened outside of my oh-so-superficial standards, I peel those suckers and throw them in a ziplock bag and into the freezer. There they remain until a) I start craving banana something, b) the freezer is full, or (the most common situation), c) I feel like baking and trick my brain into believing that if I put bananas in my baked concoction, it's a health food.  Voila, I bring you banana muffins.
Banana Muffins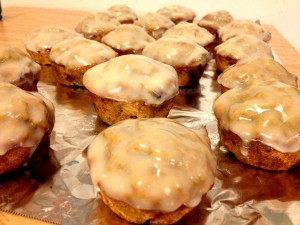 Ingredients:
4 Bananas
1/2 C. Brown Sugar
2 t. Vanilla
Pinch Salt
2 t. Pumpkin Pie Spice
1 Egg
3 T. Coffee Creamer + 1 T. Coffee Creamer (for the glaze)
1/2 C. Butter + 3 T. Butter (for the glaze)
1 T. Baking Soda
2 C. Flour
3/4 C. Powdered Sugar
Instructions: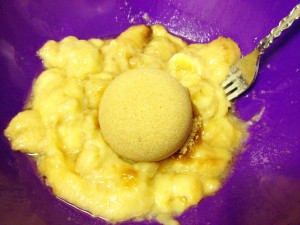 Begin by mushing up your bananas and adding the brown sugar.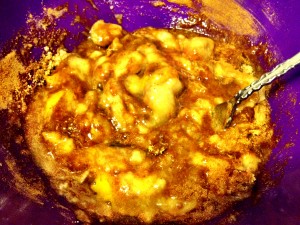 Then add the vanilla, your egg, salt, and the pumpkin pie spice.
In goes the coffee creamer… I used Pumpkin Spice, yum!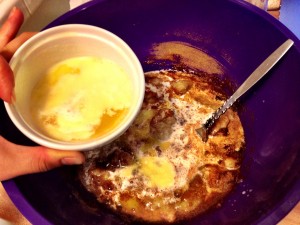 Melt the first portion of butter and throw that into the mix as well.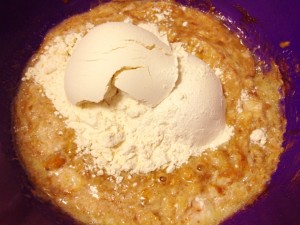 Next up comes the flour and baking soda.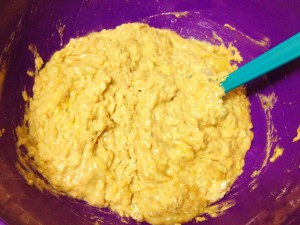 Boom!  Mix that deliciousness up, but be careful not to overmix it- just enough so that everything is combined.
Lick the spoon.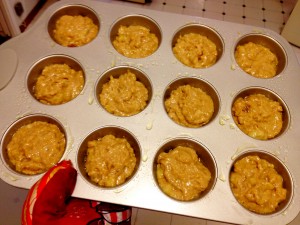 Grease a muffin pan and fill up the little cups about 3/4 of the way.
Throw that in the oven at 350 degrees for about 15 minutes.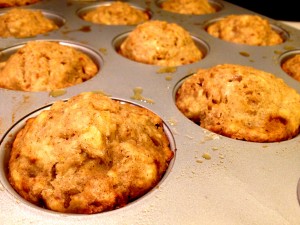 Hey there!  Look at that, you're a baker!  WOO-HOO!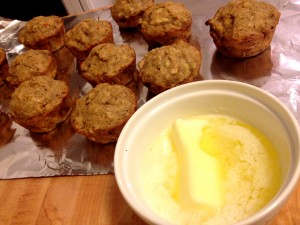 Thought your were done?  Not so fast.  These can still get less healthy, so let's go ahead and get on that ASAP.
Pull them out of the pan and get to workin' on your glaze.
Melt the last portion of butter and add to it the last of the creamer and the powdered sugar.  Whisk it up with a fork…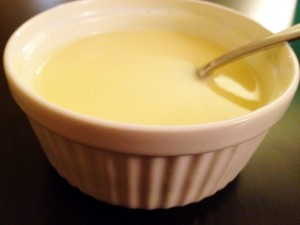 Until it's nice and smooth like this!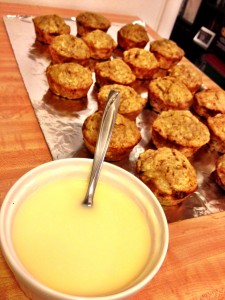 Dip the tops of your muffins into the glaze, then set them back down to let the glaze firm up.
It's totally acceptable to lick your fingers.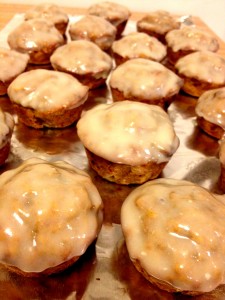 Oh. Yes.
Mangia!