Contrary to popular belief, my baking escapades aren't always filled with sunshine and rainbows. Usually, when it's really important, my bacon is burning, I've simmered the garlic too long, I can't find the cocoa powder, and (drumroll please), I've dropped my iPhone in melted chocolate. When I say dropped my iPhone in melted chocolate, what I mean is that I've completely submerged my entire phone in hot, liquid, chocolate and am literally paralyzed in shock. Yep, that happened. I was holding my chocolate covered phone, speaking incomprehensible babble, when my dad had to step in and take over.
A lot of paper towel, toothpicks, a rice bath, and some windex produced a small Christmas miracle: These fantastic cookies, and a somewhat dirty, but still fully functional iPhone.
Salted Dark Chocolate Truffle Cookies
Recipe (with minor modifications) from How Sweet Eats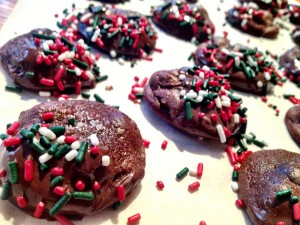 Ingredients:
6 T. Salted Butter
4 Oz. Bittersweet Chocolate
2 C. Dark Chocolate Chips
3 Eggs
3/4 C. Sugar
2 T. Vanilla Extract
1/2 C. Flour
2 T. Cocoa Powder
1/4 t. Baking Powder
1/4 t. Salt
Coarse Sea Salt for Sprinkling
Sprinkles
Instructions: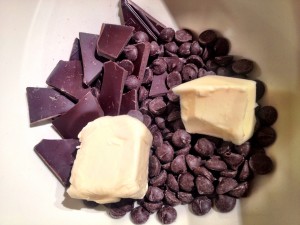 Begin by melting 1 cup of your dark chocolate chips, the bittersweet chocolate and butter in the microwave.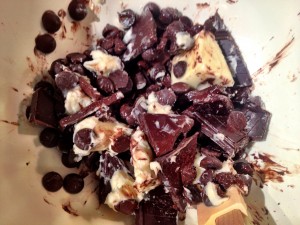 30 second bursts in the microwave do the trick.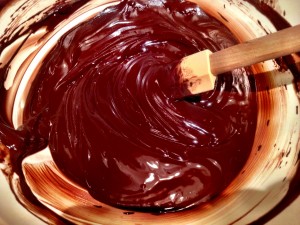 Until your chocolate is nice and melty like this. Set it aside and let it cool.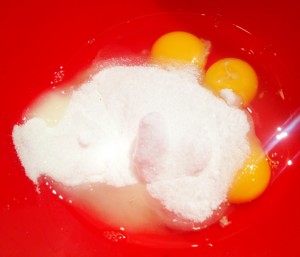 Now you're going to need another bowl. Combine your eggs and sugar.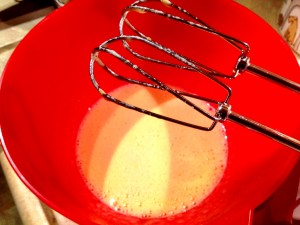 Beat that combo together for 2 minutes until you have some small bubbles.

Then combine the chocolate and egg mixture together and stir!

Want to know what I don't have a picture is the egg mixture and chocolate combined. Want to know why? Because it was when I was attempted to get a picture of the concoction, that I dropped my entire iPhone inside. Ugggghhhhhh… moving past it. Now I start taking pictures with my Dad's phone instead. He's a brave guy. Thanks for the vote of confidence, Dad ;)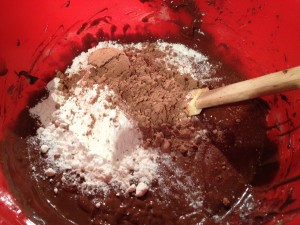 After a small break and some tears, I added my dry ingredients to the chocolate/egg mixture.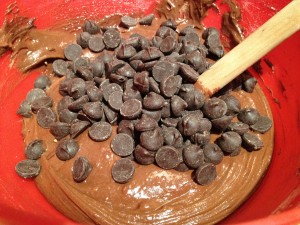 And then the other half of your dark chocolate chips…

Now, sadly, you need to refrigerate your batter for at least 4 hours. Mine hung out in the fridge overnight.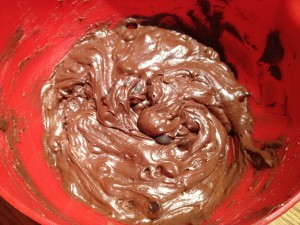 Now it's nice and firm!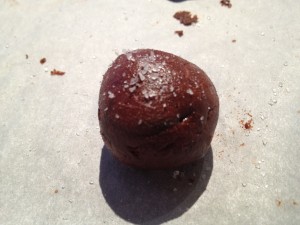 Roll your dough into 1 inch balls and lightly sprinkle with coarse sea salt.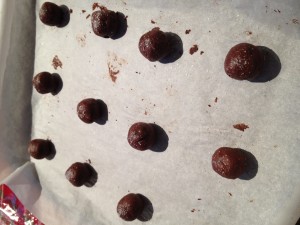 Place your cookies in the oven for 9 minutes at 350 degrees.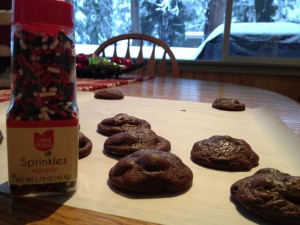 Let the cookies cool completely and then you can get to working on your sprinkles.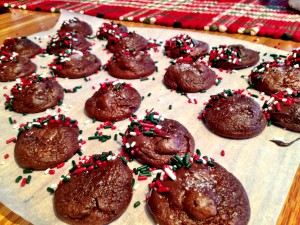 Melt your remaining dark chocolate chips in the microwave and then dip the edges of the cookies in the chocolate and cover with sprinkles.
Soooooo good!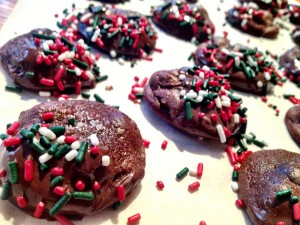 Don't fool yourself into thinking that these are normal cookies, these are more truffle than cookie. So rich. Too perfect. You're going to love them.
Mangia!