So the last two posts have been relatively healthy and completely vegetarian. Given that fact, I feel it's my duty as your friend, and favorite blogger (yea, I went ahead and made that assumption), to make you something with pork and carbs. You're welcome.
There's something to be said for a warm, red, meat sauce; the smell of basil mingled with garlic; and the way your kitchen windows fog when you boil pasta on a cold winter night. Kinda romantic right? No? You're saying I'm the only person that associates pasta sauce and pork with romance? Impossible. This recipe is for Rachael Ray's Peasant Pasta. It's easy enough for a week night meal, makes the house smell like heaven, and still tastes good leftover. Enjoy!
1 T. Olive Oil
1/2 Lb. Hot Italian Sausage
1 Lb. Sweet Italian Sausage
4 Cloves Garlic
1/2 C. Chicken Stock
1 28 Oz. Can Crushed Tomatoes
1/2 C. Heavy Cream
Salt & Pepper To Taste
1 C. Frozen Green Peas
24 Leaves Fresh Basil
1 Lb. Penne Pasta
Grated Italian Cheese
Instructions: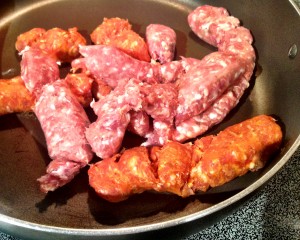 Begin by browning the meat. Yummmm, sausage!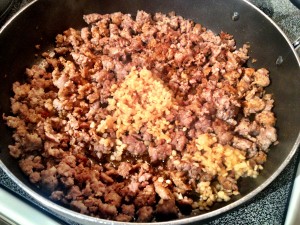 After the sausage is brown and your kitchen smells like a vegetarian's worst nightmare, add your garlic :)
Next step is to add your chicken stock. You caught me, I don't use the low-sodium kind… shocker.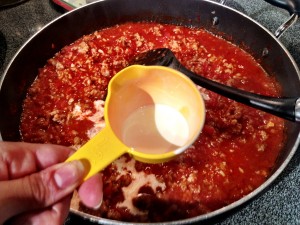 Then your crushed tomatoes and heavy cream.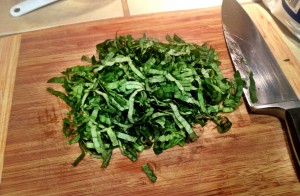 While that's simmering, chiffonade your basil… I LOVE how much basil is in this recipe!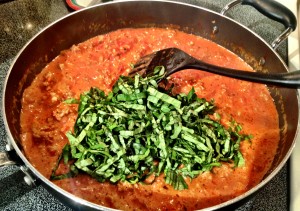 And then add is to your sauce.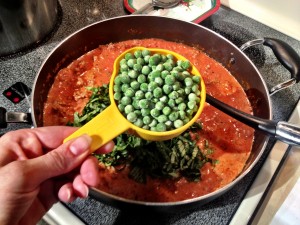 Peas! Brilliant idea for added green :) It's healthy now, right?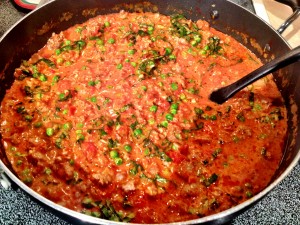 Stir it up and let is simmer while you work on your noodles.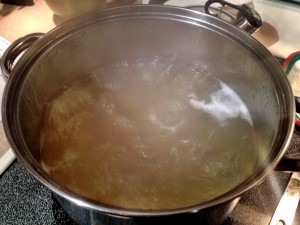 Get your water boiling, add your pasta…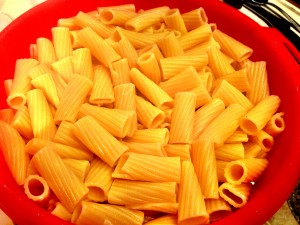 And voila, carbs!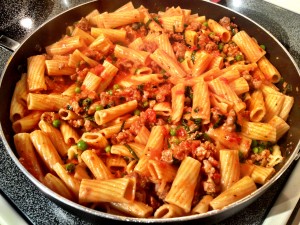 Mix your pasta and sauce while everything is still on the stove.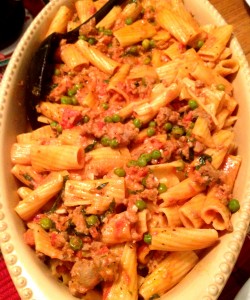 Then serve it up!
Mangia!