If eternal happiness could be found in a skillet, it would most definitely taste like this.
Stop everything and make this. I'm being serious. It's mood altering, magical, life changing, drool on your keyboard, perfect. Seriously though, I've never done better, if I do say so myself. It's the end of your new years diet, and the beginning of a really fantastically delicious heart attack. Worth it.
It all began in a posh tech company cafeteria. A cafeteria offering free breakfast, lunch, and dinner to all employees. A perk destined to make those with no self-control whatsoever (read: ME), incredibly fat. Every Friday, no seriously, EVERY Friday, a cafeteria located directly beneath my desk at work serves… wait for it… Bacon Fried Rice. Yea, you heard me right. Bacon. Fried. Rice. Every freaking Friday the smell of bacon grease wafts gently up through the air vents to taunt me. It begs me to go downstairs for just one little scoop… or two, or three, or a small mountain- it's all you can eat and FREE for crying out loud! Let's just say, despite my best intentions, I've succumb… once or twice.
I mean really though, could anything BE more perfect? Salty bacon, warm rice, little sprinkles of color from the carrots and peas, topped off with fresh green onions. Let's just get straight to the point- I'm obsessed. Like, I DREAM about this stuff. I absolutely had to try to make it myself, and, instead of making an entire batch por moi so I could scarf it down like a little piggy, I decided to use my lovely friends as guinea pigs. In honor of the last night of gluttony before millions of Americans pledge to go to the gym, cut out carbs, drink more water, and stop boozing so hard… New Years Eve. What a great way to say goodbye to 2012.
Bacon Fried Rice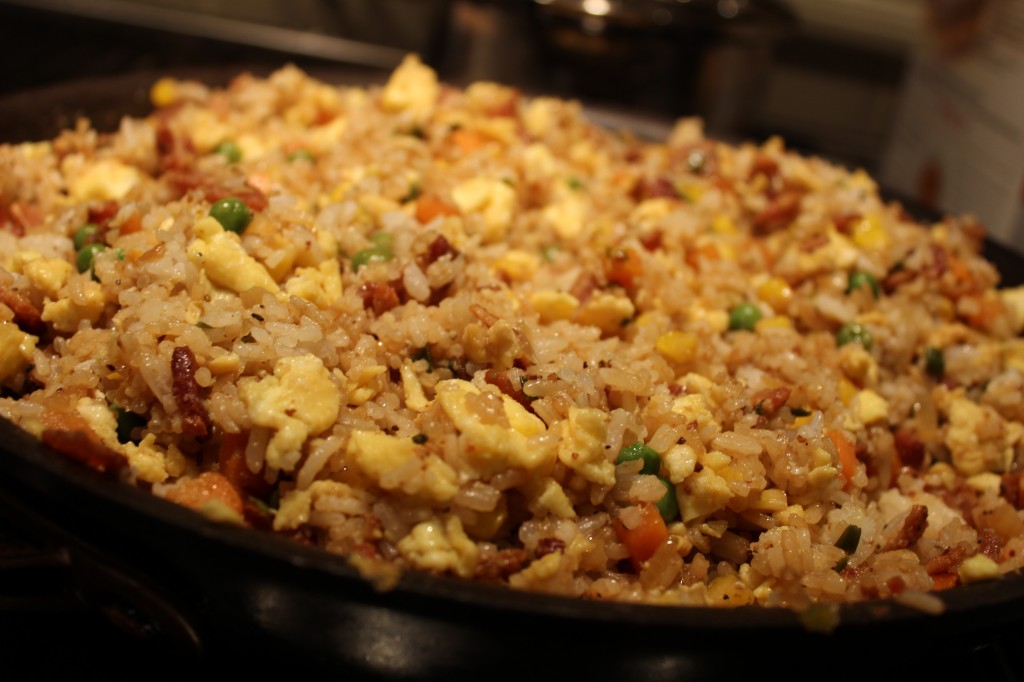 Ingredients:
4 C. Jasmine Rice
16 Oz. Bacon
1 Yellow Onion
12 Scallions
8 Eggs
8 Cloves Garlic
1 1/2 C. Frozen Mixed Veggies (Carrots, Peas & Corn)
1/4 C. Soy Sauce
Instructions:
Prepare your rice according to the package directions. Ideally, your rice is going get a bit stale before you add all of the other goodies to it, so try to do this in advance. I made my rice in the morning when I planned to serve it for dinner that night.
Let your fluffy rice hang for a while.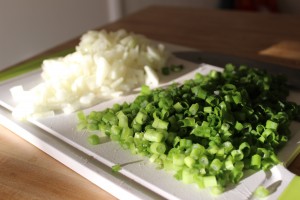 I like to call this sun setting on onions.
HA. Chop the onions & scallions… you know the deal ;)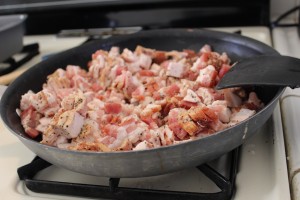 Ahhhh, yea… there's the good stuff.
Get that bacon GOOD and crispy, because it softens a bit later when you add the veggies which contribute moisture.
I'm basically a food scientist, guys.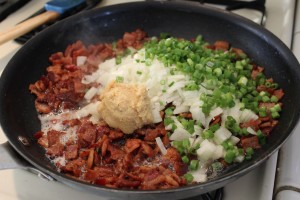 I hate chopping garlic. I buy jarred. There you go, folks, you know all of my secrets now.
Can we pause for a moment and admire this skillet? Bacon, garlic, onions… I'm hungry.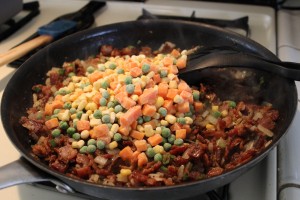 It quite literally gets prettier and prettier.
Most people would do peas and carrots, but I never miss an opportunity to add corn to my concoctions.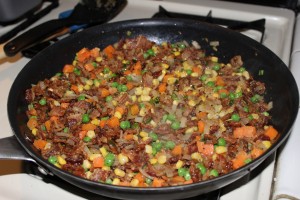 You're getting so close. Are you excited yet? I am.
So excited in fact, by this point I'm dancing in the kitchen, hopping anxiously from one foot to the other, quite literally squealing with delight.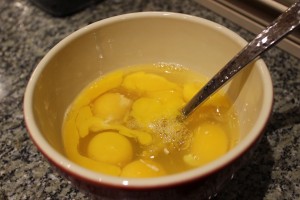 Put your bacon and veggie mix aside for later.
Then, get to scrambling those eggies :)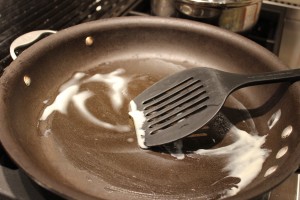 I think you know me well enough to know what I'm greasing my pan with… If you're new, it's bacon grease. Duh.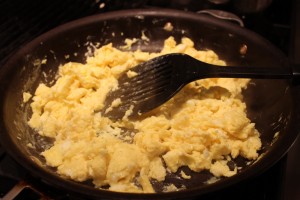 Give your eggs some love… a simple scramble! Then set them aside, you're going to need that frying pan again.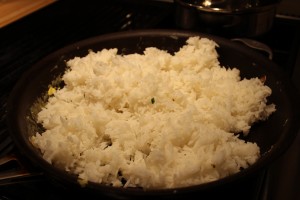 You want to give your rice some crusty edges too, so throw it in the skillet with the leftover grease to warm it up a bit.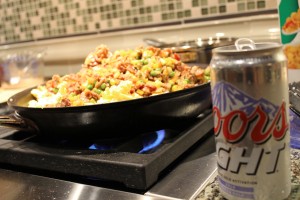 Once your rice is warmed up and got some crusty edges, add the eggs and the bacon/veggie mix.
Pairing note: The complex flavors in this dish are served best alongside cold, cheap, canned, American brew.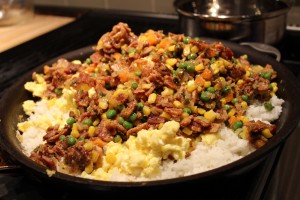 Guys… OMG, GUYS! LOOK! Are you seeing this? It's just delightful.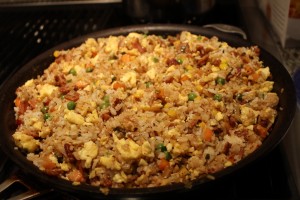 And there you have it. Everything, and I mean EVERYTHING, you never knew you needed from the rice in your life.
Mangia!