Guys.  I grew something.  I put seeds in the ground, added water, and something grew.  It grew for more than a week.  I cared for it and it didn't die almost immediately.  This is monumental.
It's not that I usually kill my plants- I actually ALWAYS kill my plants.  I can't so much as keep a cactus alive for more than 2 weeks… BUT, I grew basil… AND, I grew it from seeds!  Here's how it went down: I buy seeds at the store and plant them during the appropriate months listed on the packet.  Grandma says don't skimp on the fertilizer, buy Miracle Gro.  I follow Grandma's instructions.  The packet says that you should plant one seed 1/2 inch below the ground, and place individual seeds 6 inches apart.  Clearly, there wasn't a shot in hell that I was going to bank on that 1 seed surviving.  I sprinkle a handful of seeds in each 1/2 deep hole and figure "survival of the fittest," will handle the rest.  I water.  I try VERY hard not to "over love" my basil plants by watering them every few hours and thus drowning them.  I succeed.  Massive amounts of basil, and thus soooooo much pesto.  Enjoy!
Perfect Pesto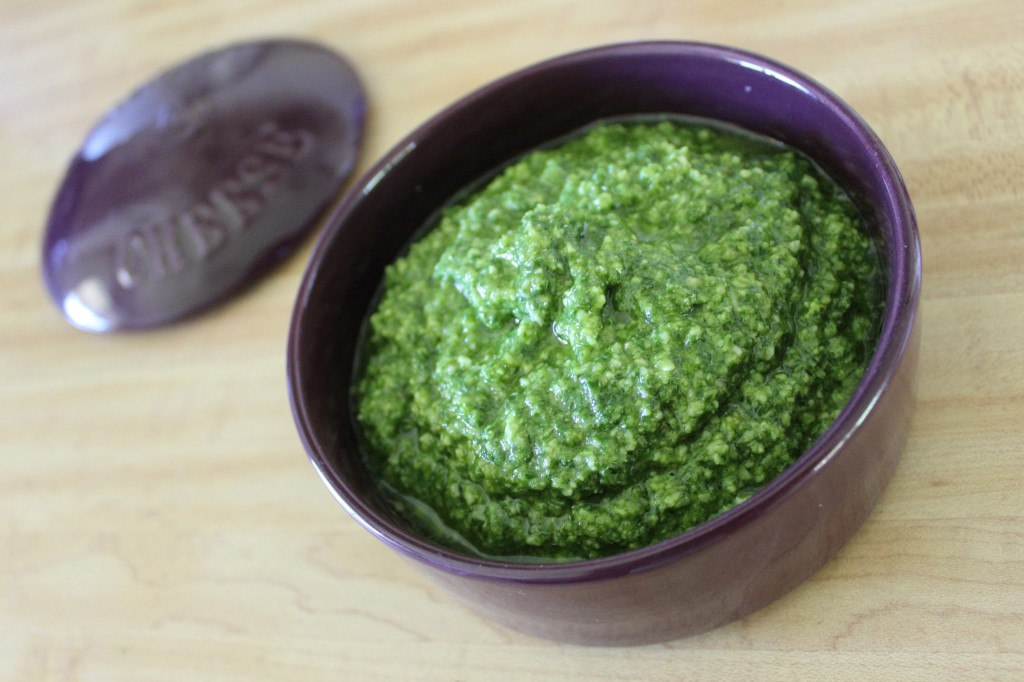 Ingredients:
4 C. Basil Leaves
1/2 C. Olive Oil
1/3 C. Pine Nuts
4 Garlic Cloves
1/2 C. Freshly Grated Parmesan Romano Cheese
1 t. Salt
A Few Turns of Freshly Ground Pepper
Instructions: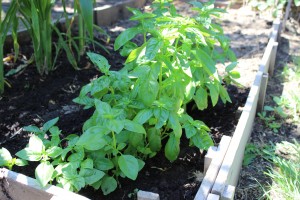 First things first.  LOOK at my basil.  Pretty epic, right?  It's so green and happy!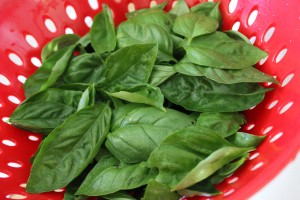 Start by washing and drying your beautiful basil.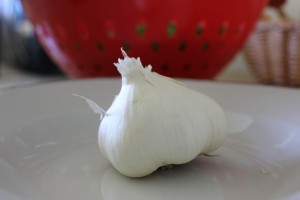 Garlic.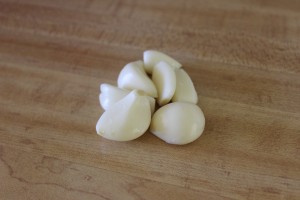 Peel those cloves!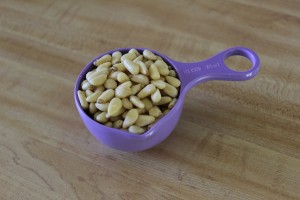 Then measure out the pine nuts… and add them as well as the basil and garlic to your food processor (or blender).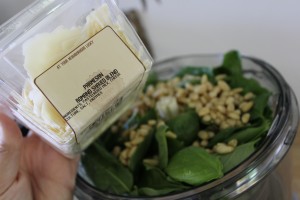 Next up is the parmesan romano cheese… add that deliciousness to the food processor as well.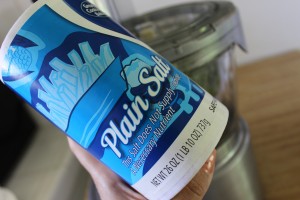 Little baby bit of salt…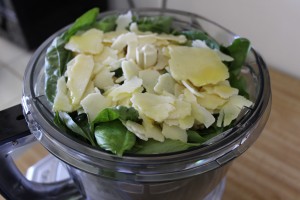 And now you've got all your goodies in one place! Blend that baby up!
Hello happiness.
Mangia!