I both love and hate my cousin Marty for sharing this recipe with me.  On one hand- it's absolutely delicious.  It's a never-fail, crowd pleasing, gone 5 minutes after being served, appetizer that is guaranteed to get oohs, aahs and nom nom noms.  On the other hand, it may single handedly clog my arteries and fatten my ass.  Oh well, its worth the extra 10 miles I have to run to burn off even a single slice… it might even be worth the fat ass… ;)
Marty's Pepperoni Bread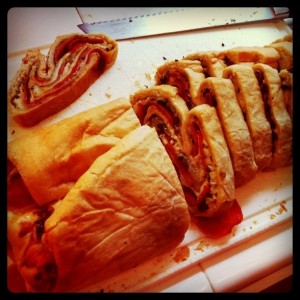 Ingredients:
3 Frozen Bridgestone Loaves
6 Cups Mozzarella Cheese
3 Cups Parmesan Cheese
Olive Oil or Cooking Spray
Oregano
Garlic Salt
Basil
Pepperoni
Veggies or any other topping of choice
Instructions:
First defrost your frozen loaves of Bridgestone bread.  This needs to be started the night before you plan on preparing your pepperoni bread.  Pull the loaves out of the packaging, rub them in either olive oil or cooking spray and place on a greased cookie sheet.  I typically cover them with saran and put them in the refrigerator overnight., then pull them out to rise at room temperature for at least an hour before I get ready to roll them out.  They should be fluffy and at least twice their frozen size before you roll them out flat.
Lay out parchment paper and drizzle with oil or use an oiled cutting board for your workspace.  Using your hands, flatten each loaf into an oblong shape where you can begin to spread out your toppings.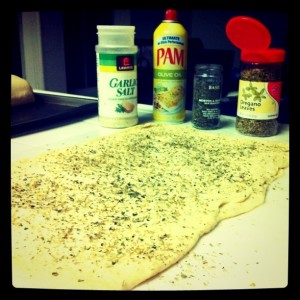 Sprinkle your garlic salt all over the flattened bread, then the oregano and then the basil.
Next spread your mozzarella (2 C. per loaf) and parmesan (1 C. per loaf) on top of your seasonings.  Finally, add the good stuff- the pepperoni, and veggies of choice.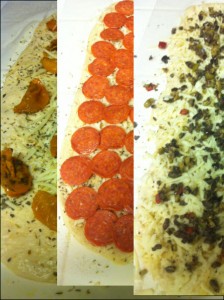 I did pepperoni on all 3 of mine, but added sun-dried yellow tomatoes to one, and olive tapenade to another.  These both turned out to be great additions, but be forewarned if you use a topping like one of the above that is soaked or stored in olive oil- try and soak up as much of the oil as you can in advance of adding it to the bread, as the pepperoni creates plenty of grease on its own!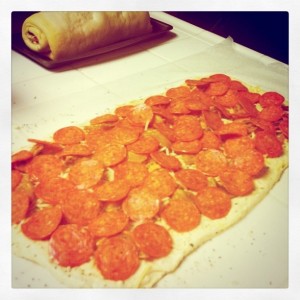 When you've added toppings to your heart's content roll that sucker up as tightly as you can and place it, seam-side down, back on your greased cookie sheet.
Bake at 300 degrees for 40 minutes or until your bread is toasty brown.  Let cool and slice before serving.  One other great thing about this appetizer is that you can easily wrap in foil and refrigerate until you'd like to serve, OR even freeze it.  To re-heat after being refrigerated, leave it in the foil, throw it directly on the rack in the oven and heat at 325 for 25 minutes.  If the bread has been frozen, place in the oven at 300 degrees for at least an hour.
Mangia!