I've always said I would love to be Martha Stewart.  I mean, besides the whole jail time, ankle bracelet, international laughing stock part.  She's also kinda creepy, right?  the favicon for her website is her face- it makes me feel like she is watching me.  I don't like it.  Anyway, back to the point… Those things aside- she bakes and crafts all day and is filthy stinking rich.  Which must be why she has time to make this pain in the ass carrot cake.  In contrast to my last post, this cake is not easy, requires several bowls, and is guaranteed to make a gigantic freaking mess of your kitchen.  That being said, its really, really good.  I don't even like carrot cake.  In general I don't like fruit or vegetables where they don't belong.  As a rule, vegetables do not belong in my cake.  Contrary to popular belief, fruit does not belong in my salad.  I suppose there is an exception to every rule… here it is…
Carrot Ginger Layer Cake with Orange Cream Cheese Frosting
From Martha Stewart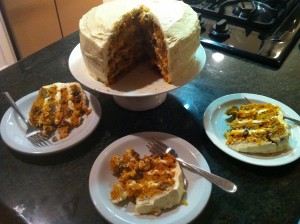 Ingredients:
Cake:
3 C. Flour + More for flouring your cake pans
1 1/2 C. Pecans
1 1/4 Lbs. Large Carrots
3 Eggs
1/3 C. Buttermilk
1 t. Vanilla Extract
2 C. Sugar
1.5 C. Vegetable Oil
1 T. Freshly Grated Ginger
2 t. Baking Powder
1 t. Baking Soda
1 t. Salt
1 T. Cinnamon
Frosting:
3/4 C. Unsalted Butter, Room Temperature
3, 8 Oz. Bars Cream Cheese, Room Temperature
3 C. Powdered Sugar
1 T. Orange Zet
2 T. Fresh Grated Ginger
Pinch of Salt
Instructions:
Cake:
Preheat the oven to 375 degrees. Get your butter and cream cheese out of the fridge to allow them to come up to room temp.  There is nothing worse than forgetting this step and then waiting around for them to get soft!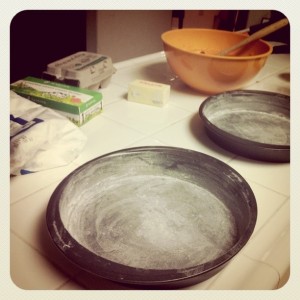 Butter 2 8×2 inch pans and then coat them in a thin layer of flour so they are ready for your batter.
Spread your pecans on a cookie sheet and put them in the oven for 7 minutes to get them toasty.  Take them out, let them cool, and then give them a rough chop.  Set them aside for later.  Turn your oven down to 300 degrees, which is the temperature at which your cakes will bake.
Now, time for your workout.  Oh you didn't know you were going to flex your muscles in the kitchen?  WRONG!  Peel and then grate all of your carrots using the smallest grate on your grater… misery.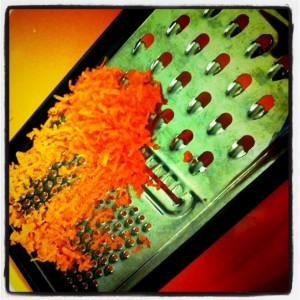 This is the worst part.  I promise.
To the grated carrots, add the eggs, buttermilk, vanilla, sugar, oil and ginger.  Stir it all up.
This is going to be one of those times when Martha tells you to combine the dry ingredients in another bowl, and then add them to the wet.  Feel free if you want, but you know this girl didn't dirty yet another bowl…  One way or another, add the flour, salt, baking soda, baking powder and cinnamon.  Finally fold in your chopped pecans.
Split the batter between your buttered and floured pans and then bake for an hour.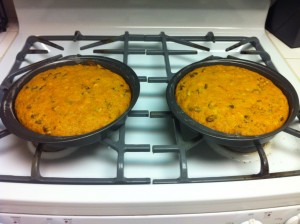 When they are done, remove them from your pan, let them cool and split the cakes into 2… voila, 4 layers!  If you're transporting the cake- cover your layers in saran-wrap and frost when you get there.  Trust me on this one.
Frosting:
Combine your room temperature butter and cream cheese in a bowl along with the rest of the frosting ingredients.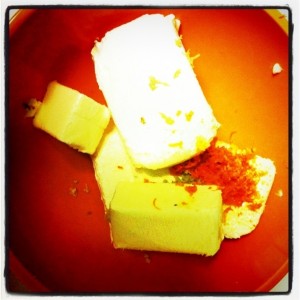 Beat with an electric mixer for 10 minutes.  You can do this in advance, but make sure you keep the frosting refrigerated if you aren't going to use it right away.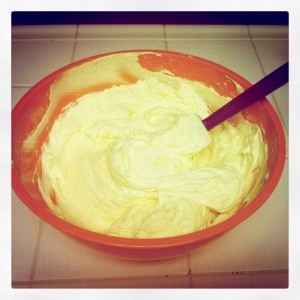 Mmm, cream cheese and sugar, sooo good.  How do you not lick the bowl?
When you are ready to serve, layer frosting between each layer of cake.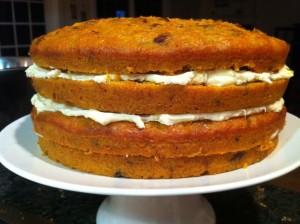 You can be generous.  Use at least 3/4 C. between each layer.
Then cover the whole dang thing in frosting…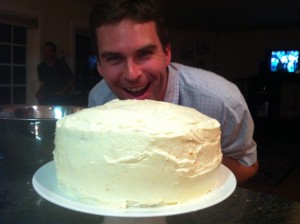 Finally, feed it to someone as excited as Eric ;)
Mangia!