My favorite things about fall include:
1. Pumpkin Spice Lattes from Starbucks!  Actually anything pumpkin, including (but not limited too) pumpkin pie, pumpkin cheesecake, pumpkin muffins, pumpkin cookies… you get the idea…
2. Comfy sweaters and sweats become appropriate for the weather (and conveniently hide the body when one has consumed too many pumpkin edibles…)
3. The beginning of my Christmas countdown- as of today, there are 103 days until Christmas… in case you were wondering: www.xmasclock.com
3. The shrinking of my electricity bill after several months of enjoying just a bit too much AC… I HATE sleeping in the heat!
4. It's wine grape harvesting season.  Which actually has nothing to do with anything, other than is seems like an appropriate excuse to drink wine ;)
and most of all…
5. FOOTBALL SEASON!
I dedicate my Sundays during football season to sweat pants, staying-in, and being fixated to my TV as much as possible.  I love football.  I also love that delicious, totally unhealthy, "bar" food AND big group get-togethers amongst friends and family seem to accompany this awesome spectator sport.  What could be better? Seriously… chicken wings, nachos, beer, all of my friends in 1 room, screaming at the TV and watching giant men smash into each other? Um, yea, sign me up for that.
To commemorate the kickoff of epic Sundays ahead, I had to create the iconic Sunday football dinner: Chili and corn bread.  Here's whats great about it- its delicious (duh), warm (great during these colder months), cooks all day long with minimal maintenance (so you can focus on the game), and serves a ton of people (so you can feed all of your friends).  Just try and argue with that… I dare you.
Football Sunday Chili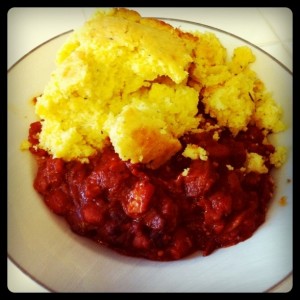 Ingredients:
1 Pound Bacon
1 Pound Sirloin, Cut into bite-sized pieces
1 Yellow Onion
2 T. Brown Sugar
1/4 C. Glour
8 Cloves Garlic
1/4 C. Chili Powder
1 T. Rosemary, Chopped
1 T. Paprika
1/2 T. Cumin
1/2 T. Salt
1/2 T. Pepper
1 Beer
3 Cans Diced, Roasted Tomatoes (15 Ounce Cans)
2 Cans Tomato Paste (6 Ounce Cans)
1 Can Mushroom Pieces and Stems (15 Ounce Can)
1 Can Black Beans (15 Ounce Can)
1 Can Pinto Beans (15 Ounce Can)
1 Can Chili Beans (15 Ounce Can)
Garnishes… Could include Sour Cream and/or Grated Cheese
Instructions:
Start chopping!  The bacon, onion, garlic and steak all need to be chopped.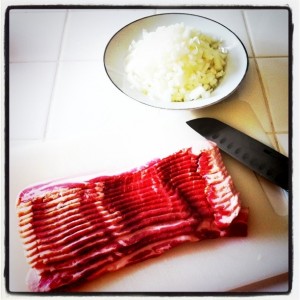 I always start with the onion first because its the most miserable to deal with, but you actually need the bacon first ;)
Once your bacon is chopped into bite-sized pieces, put it into your large cast-iron pot.  I have a 3.5 quart covered pot by Rachael Ray.  This size fits this meal perfectly.  Make sure yours is at least that big, and cast iron so it can hang out on the stove all day.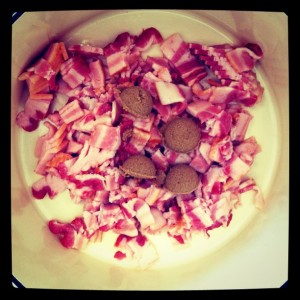 Add the brown sugar and cook the bacon until it starts to get crispy…  Once the bacon is fully cooked, drain off the excess fat.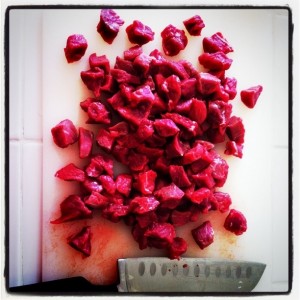 The sirloin is the next addition.  I like them chopped to about this size, but you could make them bigger, or smaller, or even use ground.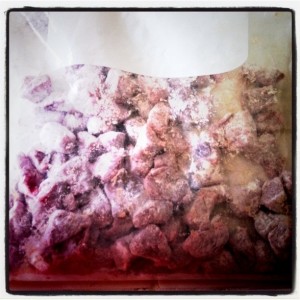 Add your sirloin to a Ziploc bag with the flour and shake until the meat is covered.  Add it to your pot with the bacon and cook it until the meat is brown.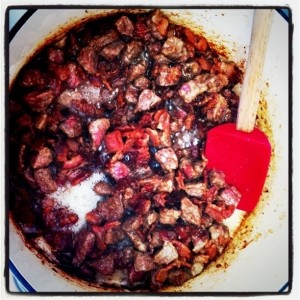 You SHOULD get a cakey, brown, layer on the bottom of the pot- that's the good stuff!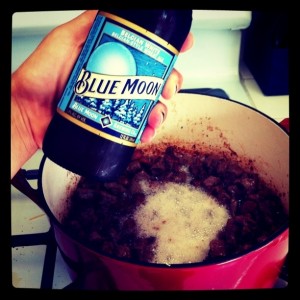 What do you do with the cakey, greasy, yummyness?  Add a beer.  Excited yet?  When you add the beer, the additional moisture will allow you to start to scrape up and incorporate that yummy caked up stuff on the bottom of your pain.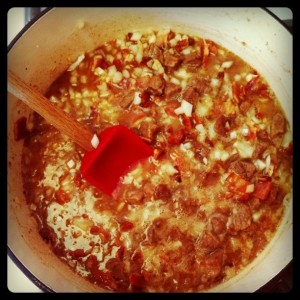 Once you're able to scrape the bottom of the pot easily- add your chopped onions and garlic.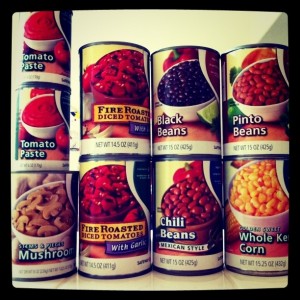 Now add the canned goods and the dried spices…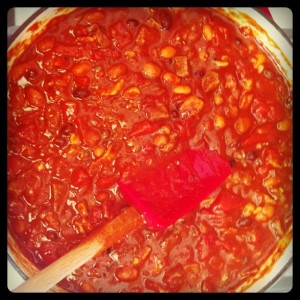 Try your very hardest to let this simmer, stirring frequently, for at least 6 hours or so.  Watch the game, drink some beer, this time was intended for you to work up a good appetite!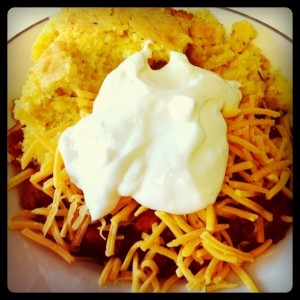 If you're anything like me, you'll serve this delish chili covered in cheese, sour cream, and with rosemary corn bread (coming soon to a favorite food blog near you)…
Mangia!