In case you weren't already aware- I LOVE corn and rosemary, so this side dish is pretty much perfection to me.  It is also part 2 to my Sunday Chili post last week.  Ideally, this deletctable side dish is served with chili or some other warm delicious treat.  I made mine in an 8×8 dish, but you could just as easily make this in a loaf pan or in a cupcake tin.
Rosemary Corn Bread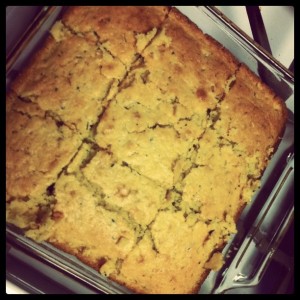 Ingredients:
2 Packages Jiffy Corn Bread Mix
2 Eggs
1 Can Creamed Corn
1/2 C. Butter
2 T. Chopped Fresh Rosemary
Directions: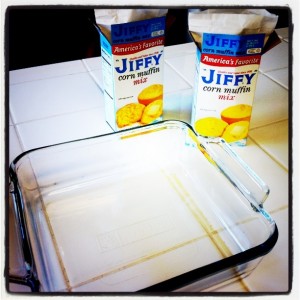 Start by preparing your 8×8 glass pan with butter or cooking spray. Preheat the oven to 350 degrees.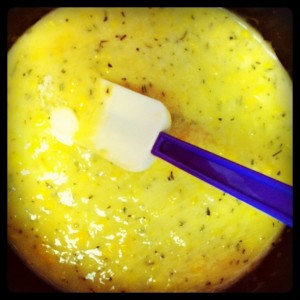 Melt the butter and rosemary in a saucepan.  Once the butter has melted, add the can of creamed corn and cook for several minutes.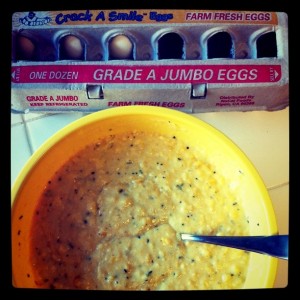 Remove the butter and corn mixture from the heat and add to a mixing bowl with the jiffy corn bread mix and 2 eggs.  Then pour into your greased dish and bake for 40 minutes.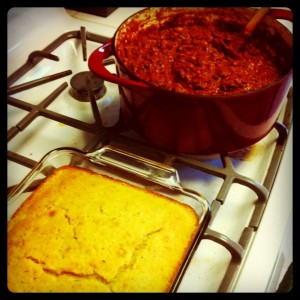 Serve with something delicious and warm… like my chili.  Yum.
Mangia!