I mean when it comes to pasta, it doesn't get much better than mac and cheese right? Carbs, cheese sauce, the oh-so-healthy addition of bacon or pancetta, and while we're at it, why the heck not saute some onions and garlic in that lovely bacon fat.  Perfection… or is it?  What if we throw that saucy, heavenly concoction in a pie crust, top it with a parmesan, panko and herb crust and then make a crispy, fried sage the "cherry on top" of the whole thing?  Yea, I went there.  I did THAT.  I served this baby up at our Thanksgiving dinner this year and it was met by oohs and aahs and wows from even the pickiest palettes.  Put this on any dinner table and your dinner guests will not be disappointed. Just ensure no one is on a diet :)
Mac and Cheese Pie with Pancetta and a Parmesan, Panko, Herb Crust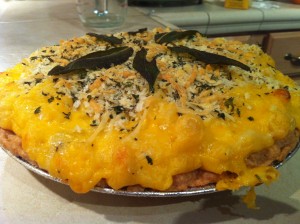 Ingredients:
2 Pre-made Pie Crusts
2 Large Sweet Onions
1/4 C. Brown Sugar
2 Vidalia Onions
1 Head Garlic
16 Oz. Pancetta
16 Oz. Macaroni ( I used shells, but you can use elbow, farfalle, or whatever you like best, as long as it has lots of crevices for the cheese sauce to hide in…)
1/2 C. Butter (1 Stick)
8 T. Flour
4 C. Milk
4 C. Grated Cheddar Cheese (I used 2 C. Sharp, 2 C. Mild Cheddar)
Salt and Pepper to taste
1/4 C. Corn Starch
1 C. Goat Cheese
1 C. Panko
2 T. Chopped Fresh Parsley
4 T. Chopped Fresh Rosemary
2 T. Chopped Fresh Thyme
8 Fried Sage Leaves (A Swirl of Olive Oil will be needed for the frying)
1/2 C. Parmesan
Instructions: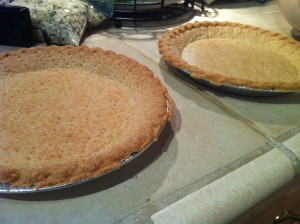 Begin by pre-baking your crust according to the instructions on the package.  You could make your own crust too, but I'm wayyyyy too lazy and have seen the little bro (a very impressive chef) scream at way too many pie crusts to attempt it myself…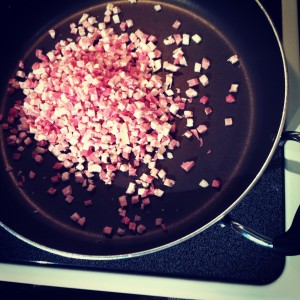 Fry your pancetta in a large frying pan.  This is the first step in creating what will eventually be your pie "stuffing."  Get excited people.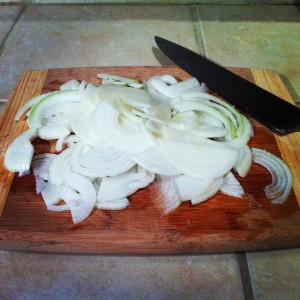 While your pancetta is frying, slice your sweet onions.  We're going to caramelize these babies!
When your pancetta is fried crispy, but it to the side and reserve the grease.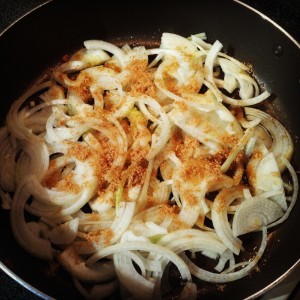 Caramelize your onions in the reserved pancetta fat.  Add 1/4 brown sugar and cook on medium high until your onions get brown, then reduce to low heat until they are warm brown, stringy, and delicious, about 20-30 minutes.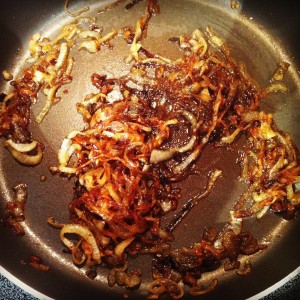 Is there anything better than caramelized onions?
While your onions are becoming glorious, chop your vidalia onions and garlic.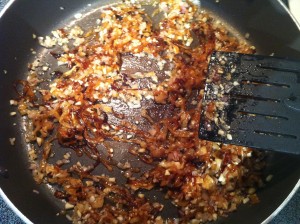 When the caramelization is complete, add your vidalia onions and garlic to the mix, just until they are soft and brown too.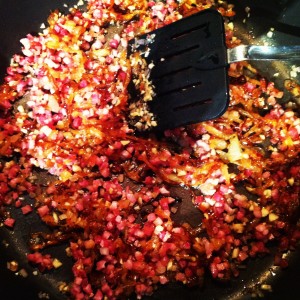 Then add your pancetta back into the mix just to combine.  Hello amazing.  Try not to eat this with a spoon immediately- it was quite the struggle for me.  At this point I started imagining all the delicious things I could do with this concoction… put it in a turkey panini, use it on top of goat cheese and serve it on crackers, add it to my stuffing, put it in cornbread prior to baking it, add it to alfredo and put it on pasta… oh man, I'm getting distracted, that's for a later blog post… ;)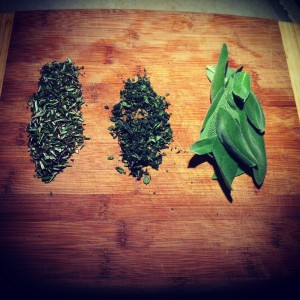 The cheese sauce comes together pretty quickly so I worked on my herb crust next.  Chop up those fresh herbs, but leave your sage leaves whole.
Add the chopped herbs to the panko and parmesan cheese and set aside. ( I did this step in a large ziplock bag)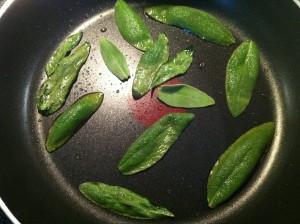 Throw a swirl of olive oil into a frying pan, let it get hot and then fry your sage until crispy and just brown on the edges.  Set on paper towel to cool.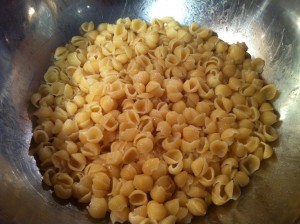 Boil your noodles and set them aside while you make your cheese sauce.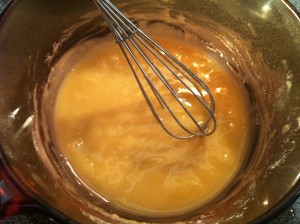 Combine your flour and butter in a saucepan on the stove, melt the butter and whisk with the flour to create a roux.  Continue to whisk until your roux turns to a golden brown color.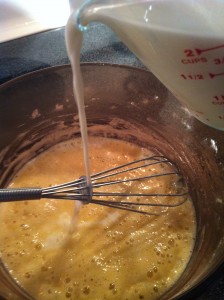 Slowly add your milk and continue to whisk until your milk comes to a slow boil.  Then remove the saucepan from the heat.
Add the grated cheese, salt, and pepper (I used white pepper).  Whisk until all is melted and combined and add the cheese sauce to your noodles.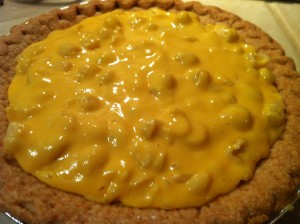 Then 1/4 of the pasta goes into the bottom of each pie crust.  Add the corn starch to the remaining mac and cheese mixture so you can create a true PILE of mac and cheese in your crusts.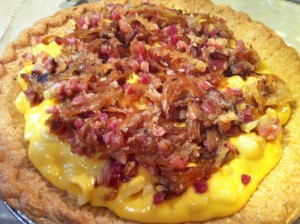 Then add your onion, garlic and pancetta filling to each pie.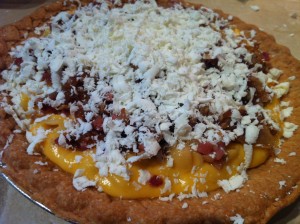 Then comes the goat cheese.  Here's a good trick… freeze the goat cheese and then grate it on top of your pie- this makes the goat cheese far easier to deal with :)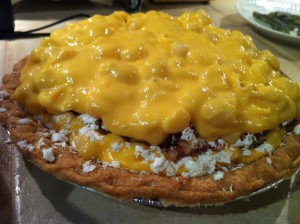 Then the rest of your mac and cheese mixture.  Move over, Paula Deen, there's a new fatty in town!  We're not done yet…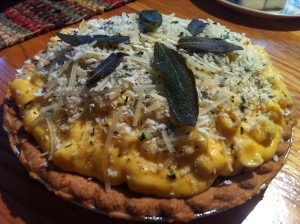 Finally, your herb crust and the crispy sage go on top.  Pop those suckers on a cookie sheet (because there is likely to be spillage) and bake at 350 for 15 minutes until the whole thing looks golden and crispy, drippy, and amazing.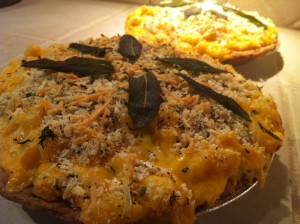 I believe this merits a round of applause.  And about a year on the treadmill… but worry about that tomorrow :)
Mangia!