I know, I know, it's still January and I promised you nothing but healthy, low calorie, fat busting food… but well, let's face it- I just don't have that kind of self control.  Do you know me?  What did you expect?  So- while this next post is anything but health food, I'll pair it with some handy nuggets of health wisdom from the book of Elise:
RUN the fat off of your body: Seriously, it works and it doubles as free therapy, try it.
Tan fat looks better than white fat:  I spend every possible second in the sun, you should too.
Put on your bathing suit: Uh huh, throw that thing on, take one look in the mirror and then do crunches until you cry… beauty hurts, folks.
When all else fails, just tell yourself exactly what I say after just about every carb-filled, booze-drenched, weekend of 20-something fun and amazingness (seriously I might say this more often than any other phrase on the planet): Health begins Monday.
Now, back to more important matters, like carbs.  I mean really, is there anything better?  That was a trick question, BECAUSE when your biscuits a) require no yeast (or any other pain in the butt "I require rising" ingredient), b) are filled with cheese, and c) are covered not only in butter, but WINE INFUSED BUTTER… they are, in fact, better.  THAT is exactly what I've brought to you lovely internet friends today.  Seriously, these biscuits were absolutely to die for- so buttery, flaky, cheesy… don't be scared away by the gorgonzola, it's a strong cheese, but its perfect in these biscuits- even my Dad was ooh-ing and ahh-ing and he is not a strong cheese fan.  Make them. Make them tonight. Make them immediately, and then call me so I can come over and devour some.  Ready? GO!
Gorgonzola Biscuits with Pinot Noir Infused Butter
Adapted from How Sweet Eats
Makes 12 Biscuits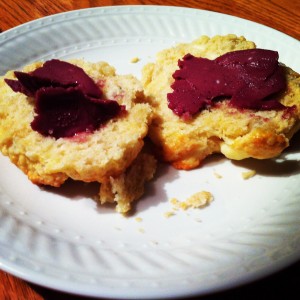 Gorgonzola Biscuits Ingredients:
2 Cups Flour
1/2 t. Sugar
2 t. Baking Powder
1/2 t. Salt
1/2 t. Baking Soda
1/2 C. Butter
3/4 C. Whole Milk
5 oz. Crumbled Gorgonzola Cheese
Pinot Noir Butter Ingredients:
1/2 C. Butter, at room temperature
1.5 C. Pinot Noir, or your favorite red wine
1/4 t. Sea Salt
Pinch of White Pepper
Instructions: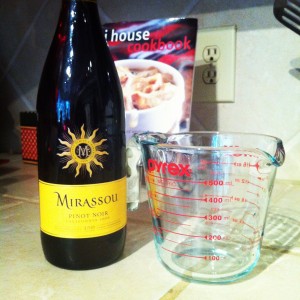 First things first… Don't even pretend you don't know where we're beginning.
It's with the wine, duh.  And oh-so-conveniently this recipe doesn't call for the entire bottle.  Oops… better drink up.  Your New Years Resolution WAS to waste less, right?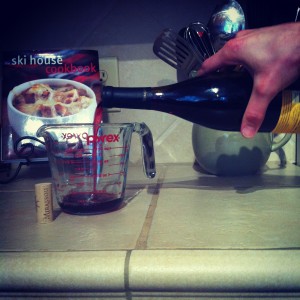 Glug, glug, glug…
Thirsty?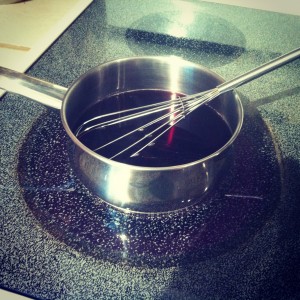 I hate to break this to you… but you have to reduce the wine. Maybe not a big deal for some of you… but for those of you like ME, with the patience of a 4 year old, reducing ANYTHING makes me insane.
Turn that burner up to medium-high, stir constantly and show some measure of patience until reduced to just under 1/4 cup.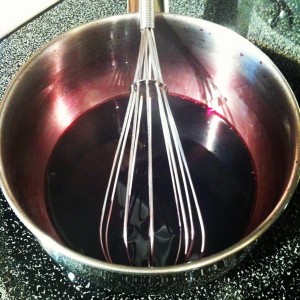 1 billion years later, it should look like this.
Uh huh, ONE BILLION.  Less sarcasm was NOT one of my 20 New Years resolutions…
For reals though, it took like 25 minutes which felt like 1 billion years.
Let your reduced wine cool almost completely, then add your room temperature butter and combine with a rubber spatula.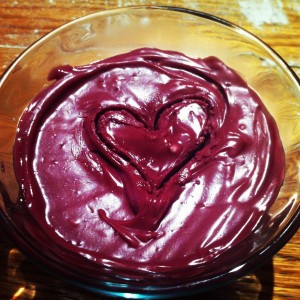 Oh, hello, pretty!
Transfer to a small container or dish and throw it in the fridge so that it can re-harden.
Now, on to those carbs…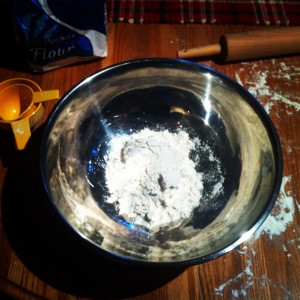 Add all of your dry ingredients into the bowl.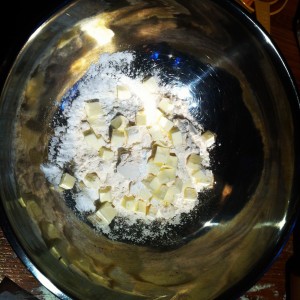 Cut up your COLD butter into cubes and add it to the dry ingredients.  Use a pastry blender to combine.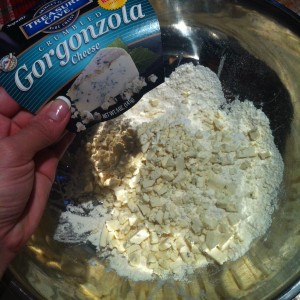 Then your oh-so-delicious cheese crumbles…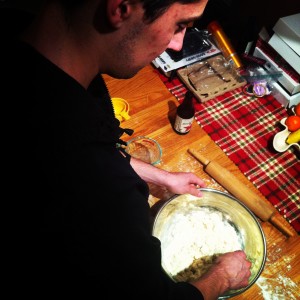 Aaaaand make someone else do the rest of the pastry blender mushing.  Oh heyyyy Broey!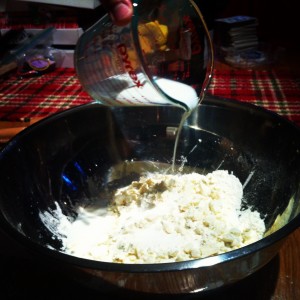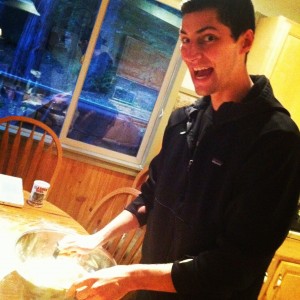 Add the milk a little bit at a time…
And then put your brother to work again!  Just mix until combined, the dough should be flaky, not smooth!
Adorable, right?  He's great in the kitchen AND he's single!  Hit me up if you're interested ladies… ;)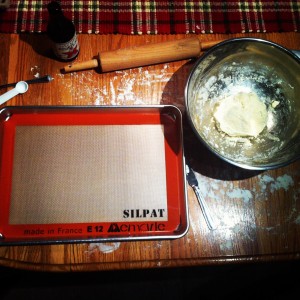 OK, you should be about here now.  If you're adorable brother, that is great in the kitchen, gave you a Silpat for Christmas(!!), use it, if not, a greased cookie sheet works too.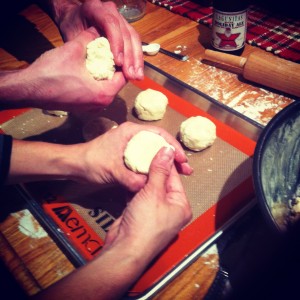 A biscuit cutter really isn't necessary.  Shape about 1/4 C. of dough into balls and place them on the sheet.
Here's a little gem of a secret… give them a dent in the center with your thumb and they'll come out shaped perfectly ;)
Pop those babies in the oven at 425 degrees for 10-12 minutes.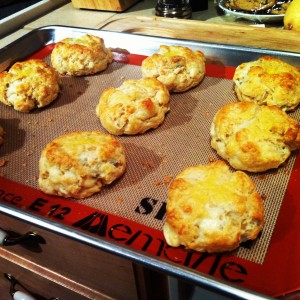 Don't you dare tell me you don't want to lick your screen right now.
Mangia!