You know those people that are incredibly smart, successful, beautiful, responsible, witty, great in the kitchen, and even better friends/sisters/wives, etc.?  You hate them, right?  Me too.  My bestie is the exception to the rule: Amanda.  She's way too amazing, cool and loyal to hate, so I made her my best friend instead.  I scored her life-long love and friendship, and this delicious couscous recipe of her's as a bonus.  Clearly, I'm winning.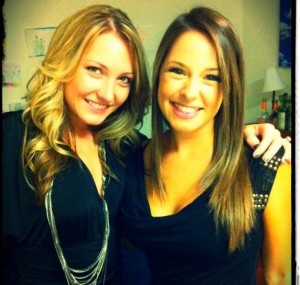 We're totally cute, right?  We also rock in the kitchen.
Amanda made this for me a few months ago.  I'm not exaggerating when I say that I've made it at least a dozen times since then; enough times that people now assume the recipe is my own… oops, sorry Amanda!  It's also really easy to modify based on what you've got in your kitchen, so feel free to use up whatever is in the crisper.  It's a great, healthy, dish that I make for myself when I'm craving CARBS (which is probably why I make it so often), and it can be served as a side-dish, a vegetarian entree, or you can add grilled chicken to it, to make it a heartier, boy-friendly entree.  Whether you choose to make it exactly as depicted below, or modify it for your individual taste, it's going to taste great… then you'll love Amanda too (but not as much as me).
Roasted Garlic and Asparagus Couscous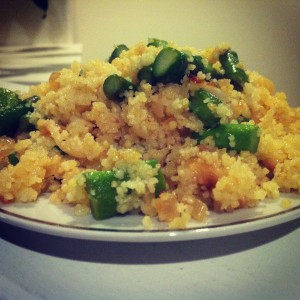 Ingredients:
2 C. Whole Wheat Couscous (I like the one they sell at Trader Joe's)
2 C. Chicken Stock
1 Whole Bulb Garlic
1/4 C. Butter
1 Yellow Onion
1 Bunch Asparagus, Cleaned and Trimmed
1/2 C. Grated Parmesan
2 T. Olive Oil
Salt & Pepper, To Taste
Instructions:
Start with the garlic roasting, because it takes the longest.  Chop off the top of your garlic like so…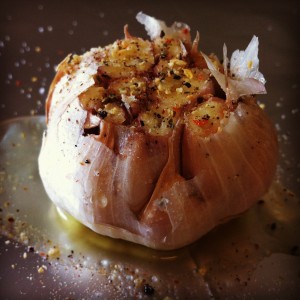 Put your galic on a square of foil, drench it in olive oil and then salt and pepper it up.
I dare you to tell me this isn't the Heidi Klum of garlic… This is super-model status garlic.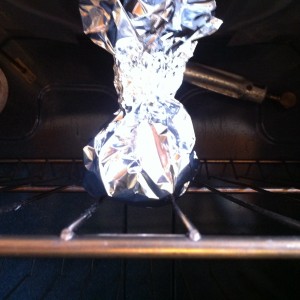 Wrap your garlic up into a cute little foil purse and throw it in the oven at 350 and bake for an hour.
Use this hour to hang out with your bestie, drink wine, and enjoy the glorious aroma of roasting garlic filling your house.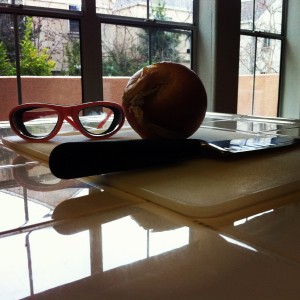 After you finish your glass of wine, the onion goggles are even more hysterical, but they'll save you from mascara running down your face.  Trust me on this one…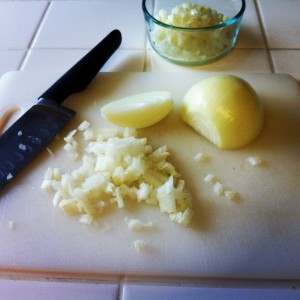 Rough chop of the onion…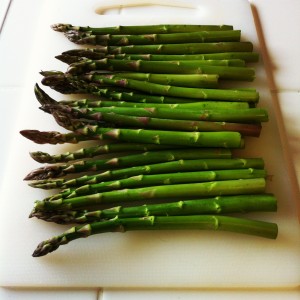 Clean and trim your asparagus.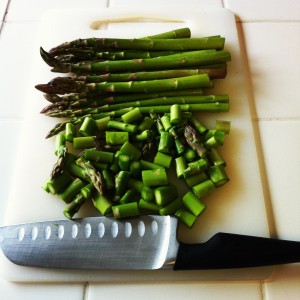 Then chop that too…
What's that you say?  Your garlic is out of the oven and has cooled?  What excellent timing!
Remove the garlic cloves from the skin.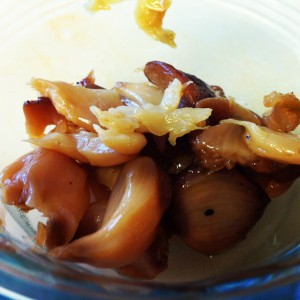 Throw those yummy cloves into a small dish…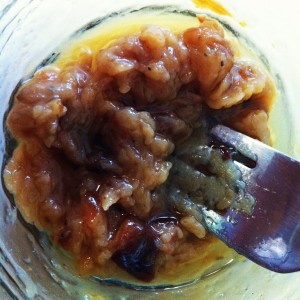 Add your olive oil, salt, pepper and mush it all up!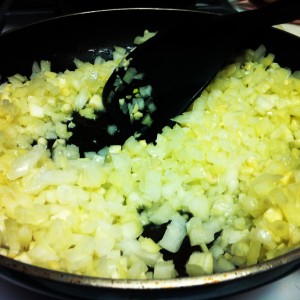 Your garlic mush and onions go in a frying pan over medium heat.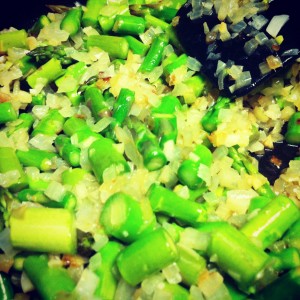 Add your asparagus and cook until it is tender.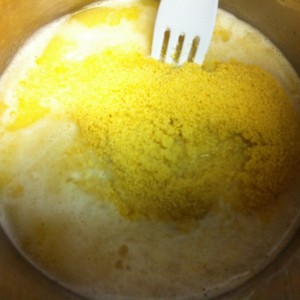 In a large pot bring your chicken stock and butter to a boil.
Once the liquids have come to a boil, turn off the heat, add your couscous and cover with a lid for 4-5 minutes.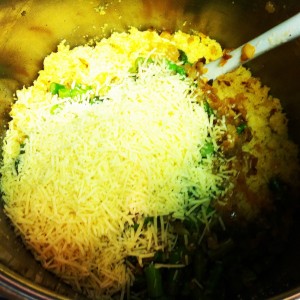 Once you remove the lid, fluff the couscous with a fork and then add your garlic veggie mixture and the parmesan.
Stir it up, just until combined and serve!
Mangia!