In yet another edition of, "You put WHAT in WHERE?"… I bring you Potato Chip and Dark Chocolate Chunk Cookies. Let's call 'em Chippy Chocolate Cookies. How cute is that, right? I loooove cookies, but in truth, I'm actually a sucker for salty, savory treats. I can easily pass up the candy jar, but put a bowl of chips in front of me and I'll devour that salty, crunchy, deliciousness like a Hoover vacuum. It's not pretty.
Alas, these cookies are my kryptonite. They're soft and chewy like my normal chocolate chip cookies, but just a little crunchy from the pulverized chips, they are sweet from the dark chocolate chunks AND salty from the ruffles. I died.
Mind.
Blown.
Potato Chippy Chocolate Chunky Cookies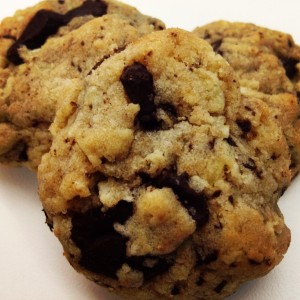 Ingredients:
1/2 C. Butter
1/2 C. Shortening
1 Bag Ruffles, Crushed into 4 C. Chip Crumbs
3/4 C. Brown Sugar, Packed
3/4 C. White Sugar
2 Eggs
1 T. Vanilla
1 t. Salt
1 t. Baking Soda
2 1/4 C. Flour
12 Oz. Dark Chocolate, Chopped
Instructions: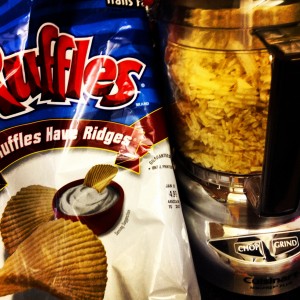 When it starts like this, how can it NOT be good? Ruffles and a mini-food processor. Yes. Please.
Begin by making a ton of noise and pulverizing your chips.
As you know, I hate making more dishes than are necessary. With that in mind, I first tried crushing my chips in a ziplock bag… Spoiler altert! In the epic battle of "I'm too lazy to wash extra dishes," vs. "I'm too lazy to spend an hour crushing chips by hand," I ended up using the food processor. Trust me when I say, its worth the extra 3 dishes you're going to have to wash.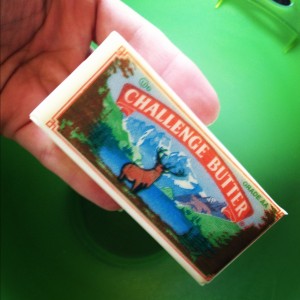 Next up, put yer butter in the bowl. It would be great if your butter was already room temperature, but not the end of the world if you've got to nuke it.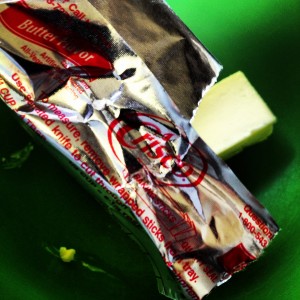 And next comes your shortening…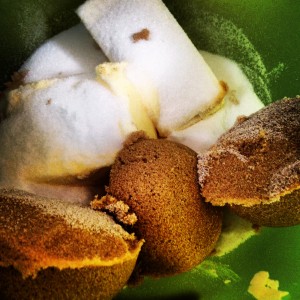 Then add your sugars and cream together the whole mixture.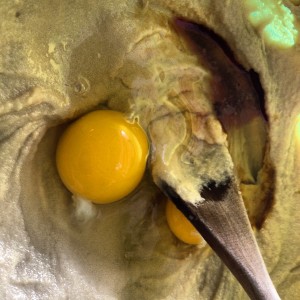 Now add your eggs and the vanilla. Starting to look like cookies, now, right?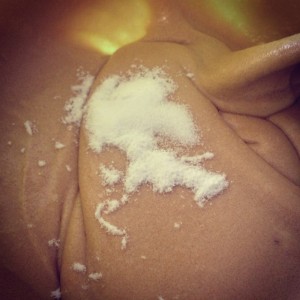 You're doing great. Getting closer… now add the baking soda…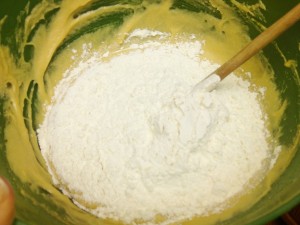 And then add your flour!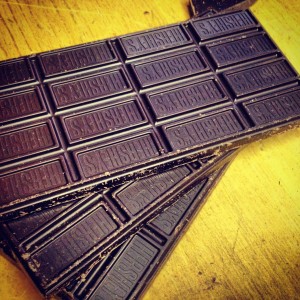 See there? Just when you were starting to get bored, I broke out the chocolate. Gynormous bars of dark chocolate. Yummmmmm…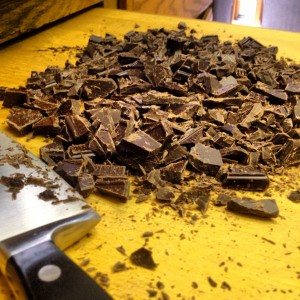 Chop it up. Make sure to taste test the chocolate. It's your duty.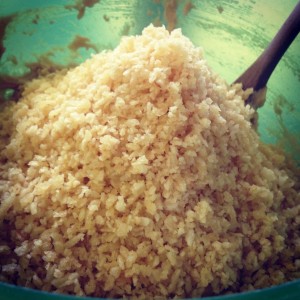 And now it starts to get interesting… add your pulverised chips to your batter.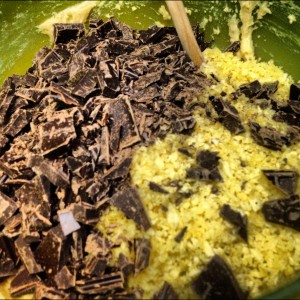 Then add your chopped chocolate too!
Ohhhhh, yes. Soooo good. If you can possibly stand it, allow your dough to chill in the refrigerator for at least an hour.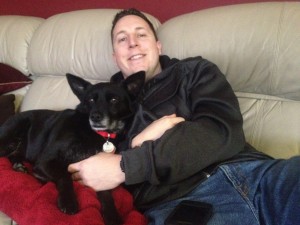 While your dough is chilling, find some cutie patooties to snuggle with on the couch.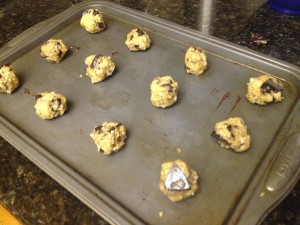 Once your dough is firm, you can roll it into little balls like this!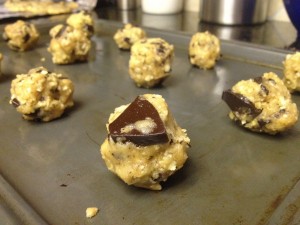 What was that? You wanted a closer look? Well your wish is my command!
Pop those suckers in the oven at 375 degrees for 8-10 minutes.
Voila. You're all done!
Mangia!